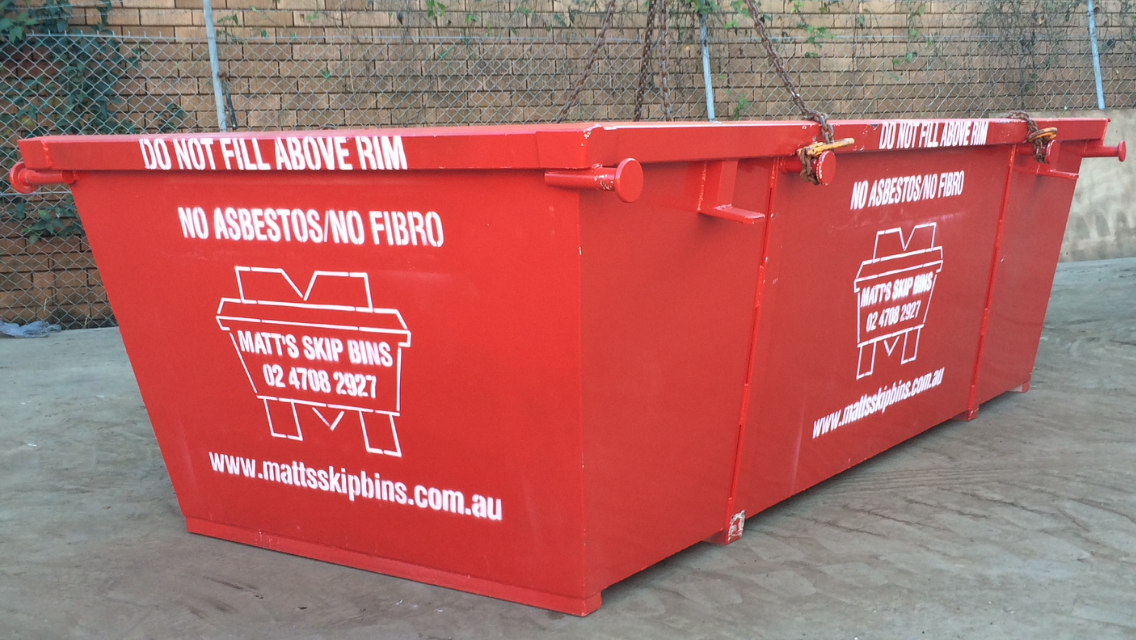 19 Mar •

3

min Read
When you hire a skip bin with Matt's Skip Bins,  there's a  wide variety of options for waste types that will cover majority of the materials you have.
With such a large scope covered, there aren't many materials we can't cater to. However, we heavily encourage that you do follow the rules of what can go in your bin in case you do come across such objects.
Want to know why all items can't just go into a skip bin? Keep reading below!
What isn't accepted
When you hire a rubbish skip through Matt's Skip Bins, there is a variety of waste types that can cater to most situations. From construction sites to home renovations, we strive to cover all  situations to ensure we keep our customers satisfied.
However, every now and again, there are some circumstances where our customers find they have items that aren't accepted in any of our bins. This includes materials such as:
Food
Liquid
Chemicals
Oils
Paints
Fire extinguishers and gas bottles
Asbestos
There are also other items that can't go into certain skips that we do cater under different bins.
For example, you can't place dirt and rocks into our green waste bins, but instead, we offer a dirt and clay bin to cover these materials. To ensure the correct items are going in the right skip bin, we have guidelines that will help you receive the best choice for your waste type.
Unlike many other skip bin companies, there are a few unusual products we do agree to receive. We accept spring mattresses and tyres which will incur an extra fee.
To discover what can go in each bin, have a look below or check out our Waste Types page.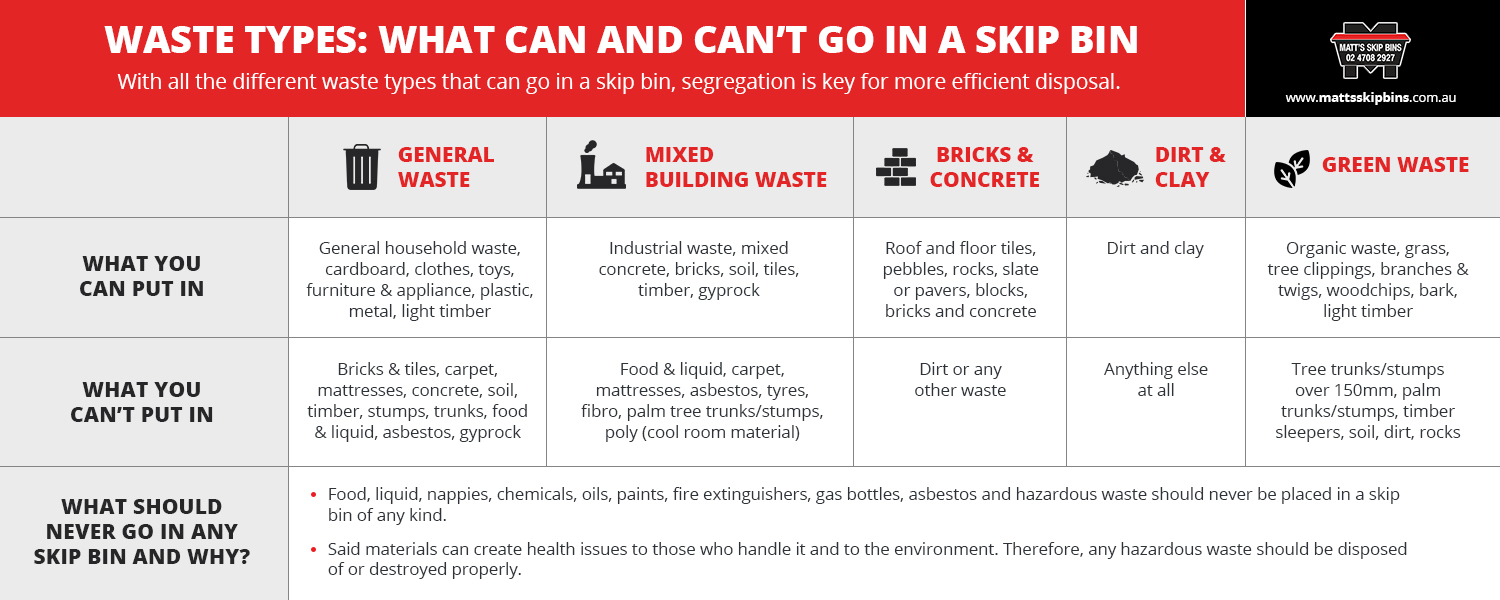 Why they can't go in
As much as we would like to cater to all objects, not all materials are accepted. At Matt's Skip Bins, it is our goal to do our part in the world. That is why we ensure we're following correct procedures and see to it that your waste is going to the right places.
This is because many items can create health issues to those around them including those who handle it. It can also create environmental issues and be a danger to those in the community.
Certain hazardous waste will need to be disposed or destroyed of properly, and therefore, cannot always be put into skip bins (this also includes items that can be reused such as fire extinguishers). Furthermore, it is highly important for hazardous materials such as asbestos to be handled correctly.
Hazardous materials can be a threat to not only our staff but also to the environment as it can contaminate waste streams. It is important to note that not all landfill and facilities will accept these items either due to risks or laws.
Tips
If you are unsure if an item can go in a bin, give your skip bin company a call. Our friendly team will always answer enquiries from customers to ensure they are given utmost assistance and satisfaction.
To make sure you are correctly handling your waste, we advise that you sort them efficiently to be certain that each material is going in the right pile or bin. This will guarantee all waste is going to the designated facility and will also help you avoid any extra fees.
For more helpful tips, read our Skip Bins Do's and Don'ts article.
---
At Matt's Skip Bins, we strive to provide high-quality skip bins and services to all our clients. From Merrylands to Penrith, we offer all our skip bins throughout Western Sydney.
To hire your next skip bin, give us a call on 02 4708 2927.