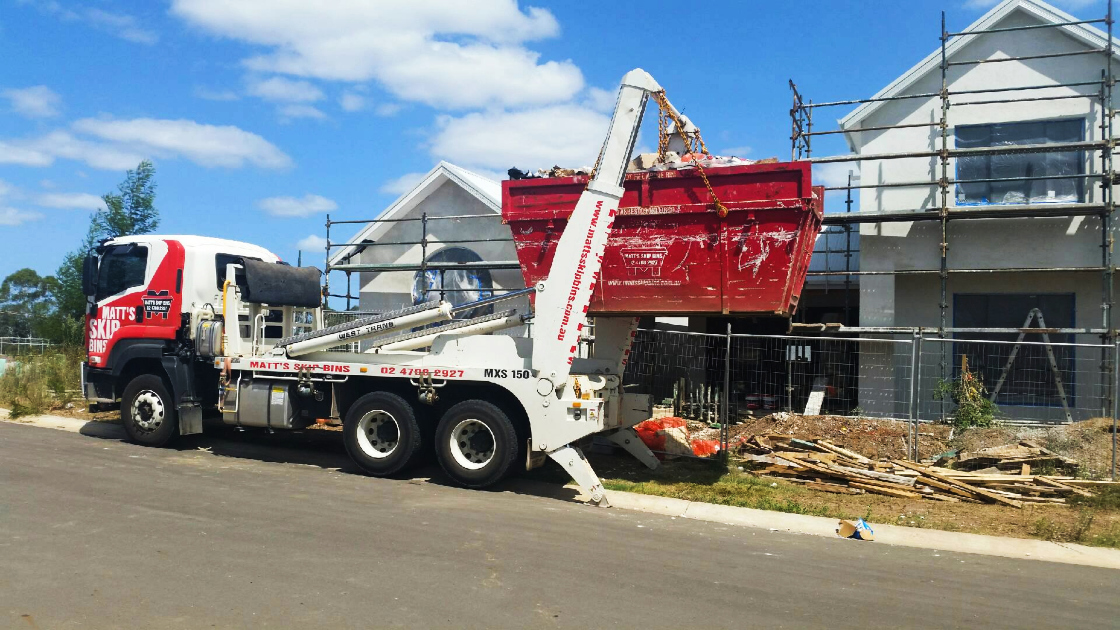 17 Sep •

3

min Read
At Matt's Skip Bins, we offer an array of different waste types to cover most situations. This way we are the convenient one-stop-shop for any skip bin necessities you may have. However, with the multiple different waste types on offer, sometimes it can be a tricky decision choosing which category fits your requirements.
No need to overthink. Matt's Skip Bins is here to help make the process easier for you! In this blog, we narrow down which waste type you will require depending on your needs and situation.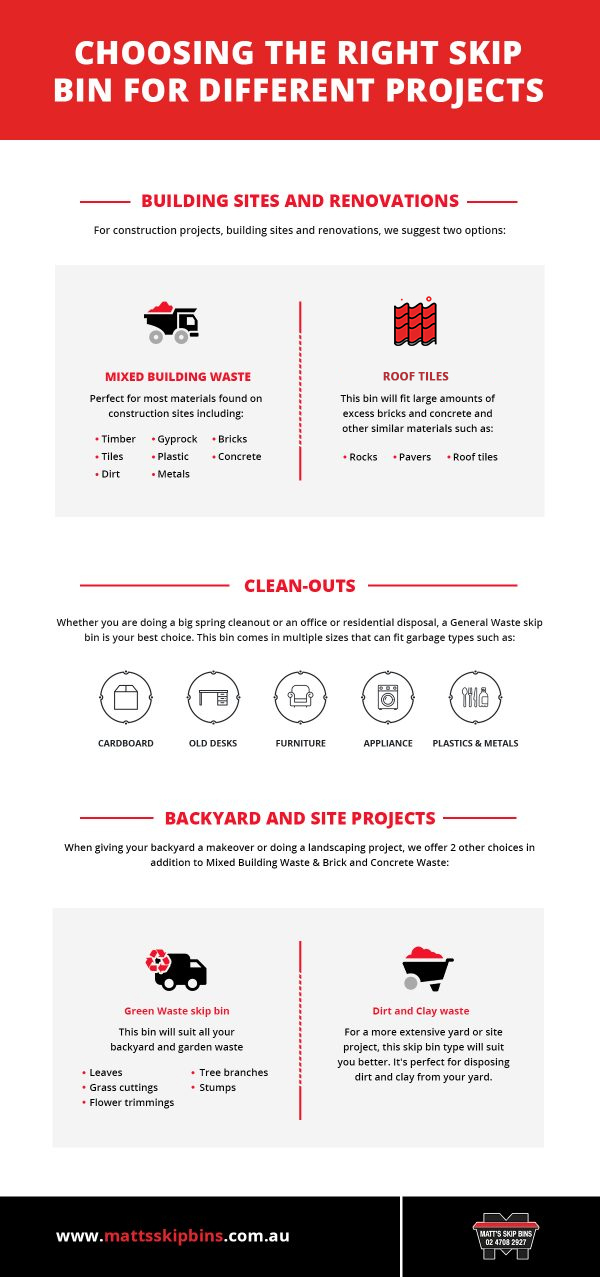 Building sites and renovations
When it comes to buildings and renovations, we have two waste type alternatives on offer. Depending on your requirements, we surely have an option for your situation.
With years of delivering skip bins throughout Western Sydney, we have found that one of the most popular waste types for building sites and renovations alike is our Mixed Building Waste skip bin. Covering most materials found on these sites, this bin caters to timber, gyprock, tiles, dirt, plastic, metals, roof tiles, making it a suitable choice for most construction areas.

For those who have a construction project that will have a large number of roof tiles, such as roof renovations or building demolitions, then our Roof Tiles waste type will be the best option for you. True to its name, this bin purely accepts roof tiles.
Clean outs
Planning to do a big spring cleanout? Whether this is an office or residential job, our General Waste skip bin is the perfect choice for you! From furniture to appliances, this bin is made for any big general clean. Coming in multiple sizes, it is the perfect all-rounder for your next clean out.

As cardboard is also accepted, this waste type is ideal for your office cleanout. Not only will it cater to any old desks you have, but it will also allow you to get rid of those random boxes laying around the storeroom. Read our recent blog on large-scale office clean-ups for more information on how this bin can help you!
Backyard projects
Do you want to give your backyard a bit of a makeover? From extensive landscape projects to cutting down the monstrous bush in the back, Matt's Skip Bins has two options for you to choose from.
If you are about to tackle the jungle that is your backyard, our Green Waste skip bin would be the most ideal waste type for you. Suited for leaves, grass cuttings, flower trimmings, tree branches and stumps, this is the best solution for your green waste.
Is your backyard project a little more extensive than that? No worries. Our Dirt and Clay waste type might be the bin you need! If you are planning on digging and removing dirt and clay from your yard, then we have your back.

If your outdoor project is large-scale, then you may even need both bins! The best part is you will feel good knowing that with either waste type, we can re-use most materials for further landscaping, construction or compost needs.
---
Found the perfect waste type for you? Give us a call or book your skip online today! Whether you need skip bins in Mt Druitt or in the Hawkesbury region, Matt's Skip Bins can help you out. For more information on which waste type you will need, give our friendly staff a call on 02 4708 2927.