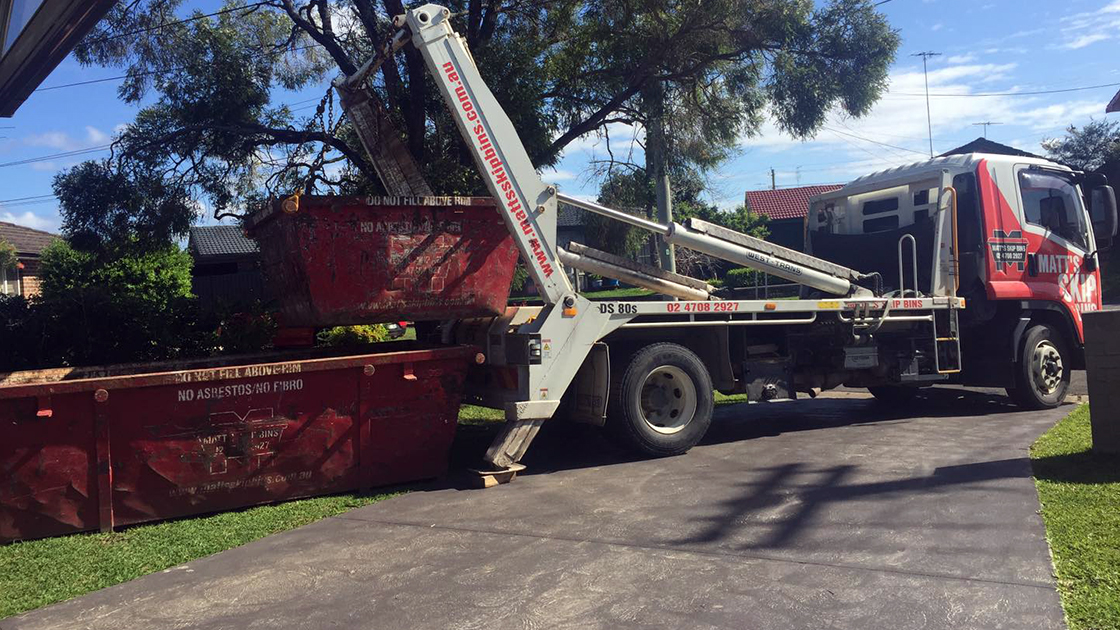 25 Aug •

4

min Read
When it comes to hiring a skip bin, there is nothing worse than an overloaded bin (seriously, we've written a whole blog on it here). It becomes a hassle and safety hazard for our team and the community, but it also becomes a hassle for you.
At Matt's Skip Bins, we want you to get the most out of your bin hire without having excess waste from overpacking your skip. To save you the trouble, we've listed all of our tips and tricks to avoid overloading your bin.
Check out the below for tips before and during your skip bin hire.
Browse different bin sizes before you order
The key to NOT overloading your skip bin is to pick the right size. To ensure you select the right skip bin size, it is encouraged you explore the different skip bin sizes available.
With our skip bins going all the way up to a 10 cubic metre skip bin, we have seven different bin sizes for our clients to select from. Varying in small, medium and large sizes, our range of skip bins will guarantee a size to suit your waste situation.
It is best to analyse the amount of waste you will be throwing out. Try writing a list or even organising a pile of what will be chucked out before you book your bin for a rough idea of the side you will need.
To avoid overloading, it is always handy to go a size up from the bin size you think you will need. This will help you to anticipate any additional mess that may come along. You can find more tips on choosing the correct skip bin in our previous blog.

Break down your skip bin content
A handy tip to stop yourself from overloading your bin is to break down each item where possible. Bulky furniture items can take up a lot of space, so it is strategic to break down and flatten objects where applicable.
Furniture pieces like desks, tables, chairs and shelves can be space-consuming items. When broken down and flattened by piece, it can allow much more space, avoiding overloading by working around it.
This is especially important if you are hiring a smaller skip like our 2m skip bin. You will want to utilise as much space as possible, so flattening pieces is critical.
Use all spaces available
To ensure you keep your skip bin content at an acceptable level, you should go out of your way to ensure you use EVERY bit of space in your bin. And no, that doesn't mean above the 'do not fill above rim' line. We mean within the bin's capacity!
While you may chuck items into your bin, have you thought about the extra hidden space waste items can provide? A lot of bulky items may have pockets, draws and little nooks that hold empty cavities.
Like a treasure trove, use these hiding holes to put more of your smaller waste items. This way, you are using up all the space you can, rather than stacking it on top of each other, flirting with the threat of overfilling your bin.
Furthermore, ensure all items are stacked to have waste within the void space. If you have a bookshelf that can't be broken down, use the shelving space and place items in between to fill it up.

Always follow the 'Do not fill above rim' line
One of the most, if not the most important, rules of our skip bin hire is to follow the 'Do not fill above rim' line. This warning isn't there for aesthetic purposes; it is a proper safety direction that should not be ignored.
The warning line is a good way to estimate where you should stop filling your bin in terms of height. Once you are nearing this line, you should ensure you do not cross it. It is important you follow this line as anything above it at the end of your hire risks staying on your property.
While we understand overloading your bin seems like a smart way to get more rubbish in, it is a hazard and something we cannot accept. As a safety rule, we can only transport your bin if it is safely covered. If your bin is overloaded, we cannot cover your bin meaning, we cannot lawfully travel the skip on our trucks.
---
So, to skip the hassle of finding yourself with leftover waste, make sure you follow these tips and ensure your bin is not overloaded! To hire a skip, you can book our skip bins online through our booking form.
If you are unsure about your bin size, we have helpful specs for each size found on our website. You can also contact our friendly team on 02 4708 2927 to discuss more.