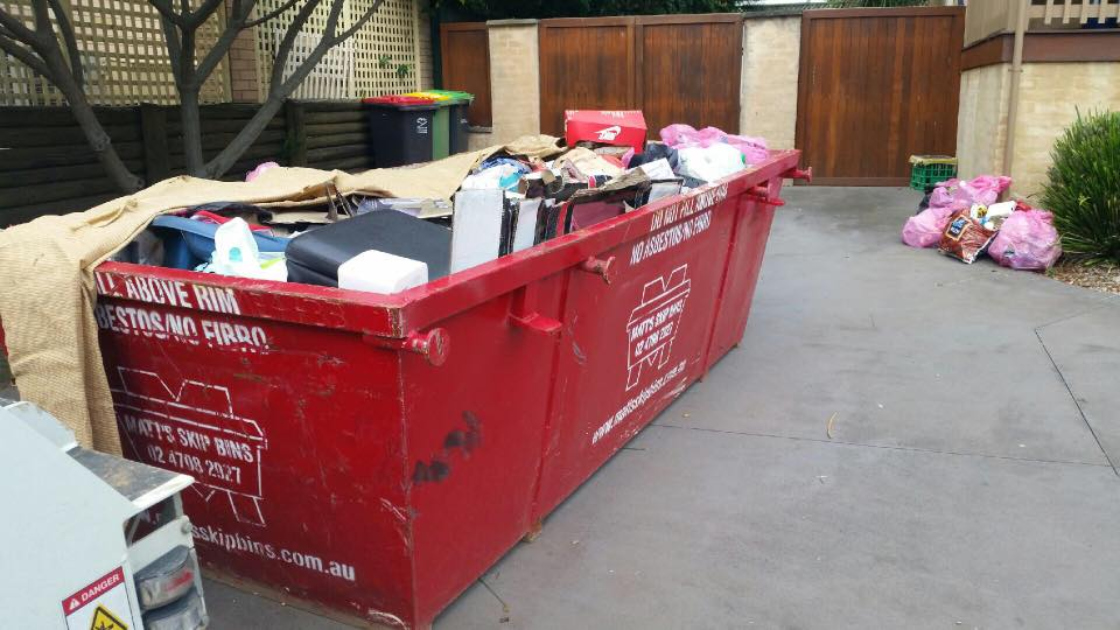 22 Sep •

3

min Read
With our trucks dropping off skip bins around Sydney day-in-day-out, we do find ourselves coming across overfilled bins now and then.
Now trust us when we say we understand you are trying to get the most out of your skip, but it is also our responsibility to abide by road and safety laws.
These laws regulate how high the content in your skip can go to ensure safe transport.
While we try to remind our customers of the 'do not fill above rim' guideline – we've even printed it on our skips – some customers forget or tend to get a little excited, overloading their skip past the limit.
As much as we love what we do, an overloaded skip can be a pain to both us and the customer.
Not only do we have to do our best to reload the bin to meet the travelling requirements, but some waste may have to be left behind, which can be annoying for the customer.
To help you avoid this situation, we've come up with a few suggestions. Read through our tips to save yourself the hassle.
Estimate your waste ahead of time
Monitor everything that goes in your bin in advance to avoid filling past the rim. This means having a look at what you need to put in your skip and going for the right size that will cater to your requirements.
Have a look around and list the items you will be throwing out. It might even be helpful to take note of sizes and compare it to our bin capacities. With an array of skip bin sizes on offer, we'll be sure to have a size that fits your waste.
Once you know what you are throwing out and how much room you'll need, you can then go and order your skip. This will save you from having an overloaded bin.
Give yourself some space and get a size up
Although you've estimated your bin, we always recommend going a size up. This gives you room for adjustments in case you may find yourself adding more objects through the hire. The extra space will also allow you some cushion for any waste you may have underestimated the size of.
An excellent example of this is opting for a 3 cubic metre skip bin instead of a 2m bin. While you may think you need the smallest size, you may be surprised how much waste you can accumulate.
By going just one size up, you are saving yourself the potential of having excess waste left behind due to an overloaded bin.
You know what they say, it is better to be safe than sorry!
Follow the 'do not fill above rim' guide
To ensure there is no way you'll have any excess waste left over from your skip bin, the main thing to do is always double-check everything you dispose of. As a friendly reminder, we've printed this on each one of our skips to help you never forget.
All you need to do is be mindful to how high your skip is filled and shuffle objects around to make it fit. If you have big bulky products, here are a few tips that can help you stay below the rim:
Break down and pull apart products when possible
Flatten items where you can
Utilise nooks and draws instead of putting it on top of objects
Stack the harder items at the bottom and place softer ones on top
Making sure your bin is properly filled means you won't have to worry about anything. This will guarantee we can fit our cover on and take your bin away with no stress.
---
Are you looking at ordering a skip bin? Keep these handy points in mind so you can save yourself from the hassle of an overloaded skip bin!
To view our many sizes or book your skip, visit our online Book a Bin system. For any enquiries or help with selecting your bin size, feel free to give our friendly staff a call on 02 4708 2927.