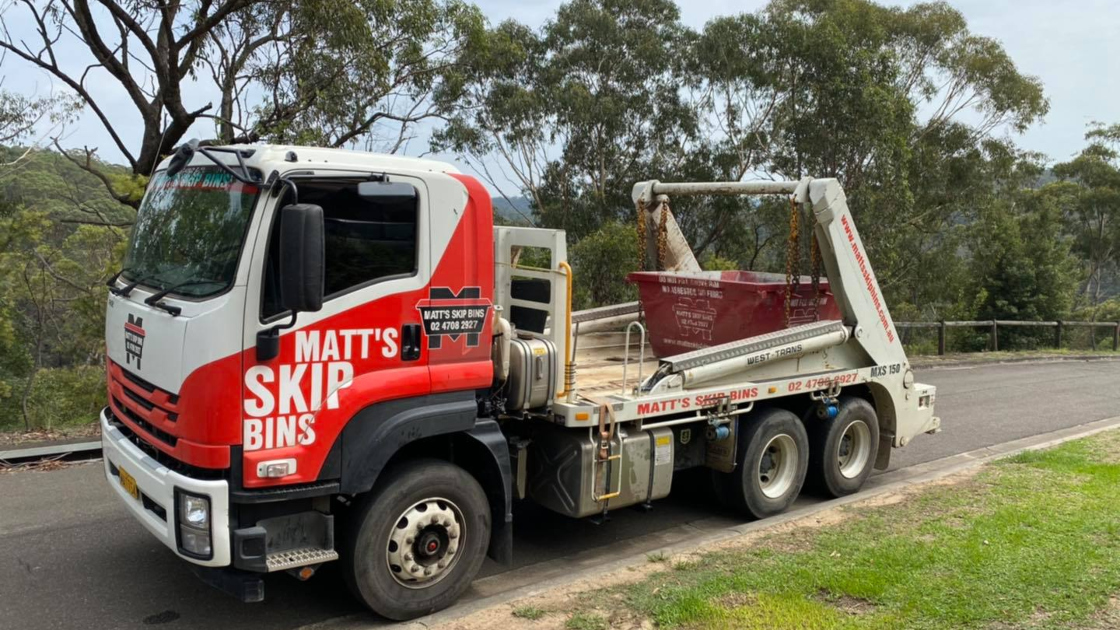 24 Aug •

5

min Read
When it comes to getting rid of large amounts of waste, there are a few methods that will do the trick.
While skip bins can be the easiest way, a lot of people tend to attempt to do it independently by going straight to the tip themselves.
At Matt's Skip Bins, we understand the appeal of doing it yourself. In some situations, it can seem like it is cheaper. But once you dig deep and compare the two, is it worthwhile in the long run?
To save you time, we have compared going to the tip yourself to hiring skip bins in Sydney. Take a look below to see the outcome and what would be your best option.
Skip bins save you petrol, money and energy
First of all, you should compare the energy and petrol each will require. With a skip bin, you aren't wasting ANY petrol at all.
As the skip bin is dropped and picked up for you, you won't even need to leave your property to use it. Instead, we do the driving for you.  This means you won't experience the hassle of packing your ute or truck with waste just to drive it somewhere and unload it again.
You just need to put it all in your skip (ensuring it isn't overloaded of course) and let us do all the sorting and unpacking for you. It's much easier and takes a lot less effort.

Unlike hiring a skip bin, going to the tip means you are wasting both petrol and energy.
Not only are you going to have to find the time to go and get rid of your rubbish at the tip, but you will also have to drive there and back — and in some cases, this could be multiple times!
It may seem cheaper, but with all the petrol you are paying to go back and forth, you are already wasting a substantial amount of money dedicated to your tip trip before you even pay for the service.
Not to mention, the service itself can also vary and be expensive, especially if you have to make multiple trips.
Plus, add on top of that any further external costs. This includes whether you are hiring a truck or trailer to get your junk there!
Hiring a skip will save you time
Hiring a skip bin is extremely convenient and will use less of your time. By giving us a quick call or by ordering our skip bins online, you let us know when you want it to arrive and be picked up!
All there is left to do is put time aside to load waste in the bin and then your job is done.

You won't have to designate time to visit like you would have to go to the tip. Furthermore, you won't have to wait in line or work around their opening hours which can be extremely annoying!
All up, a skip bin is far more convenient. On top of that, with our team servicing you, we respect your time. When you order through Matt's Skip Bins, we do our best to work around you!
Our skips are environmentally-friendly
When you go to a general tip, unless you go out of your way to go to a particular facility and separate your load, a lot of waste types will be mixed. Not only is this contaminating and stopping certain materials from being recycled, but it is contributing to waste fill as well.
By hiring a skip bin from us, your waste will generally be segregated when possible. At Matt's Skip Bins, we have our own recycling yard where we take all skip bins to after use.
Here, we go through all your rubbish before we send it to the tip, recycling as much of your waste as we can.

This way, we limit what amount of our customers' waste goes to landfill. Our customers can have the peace of mind knowing we will recycle and limit their impact on the environment on their behalf.
When a visit to the tip is the better choice
Although a skip bin works out to be the smarter choice most of the time, there are some instances where a skip bin isn't worth the hire and you're best to visit the tip.
As much as we live and breathe skip bin hires, we aren't entirely biased and strive to be transparent and truthful with our customers. This means we can admit when the tip is your better choice.
For example, if you only have a few items like two chairs, it might be a waste to hire a skip. In these instances, it could be best to go straight to the tip.

Although their staff might advise you to hold off until you have a specific weight load to get value for your money, you're better off to opt for the trip if it is a small amount you want gone soon.
You'll just need to pay the minimum amount which shouldn't be too much, depending on your tip facility.
Not sure whether you have too little waste or not?
Go with the rule that you should hire a skip bin if you have enough to fill at least half of our smallest 2m skip. While you may only expect to fill half, it can be easy to find more waste to fill it up with once you start looking.
If you don't have enough to fill half of the 2m size, you should opt for the tip instead. And if you are unsure, you could always contact our friendly staff and we can let you know what would be best!
---
Are you leaning towards a skip? With the convenience and reliable service you receive with our skips, we don't blame you! From large loads to smaller piles of waste, we have got you covered. Our range of skip bin sizes and waste types will ensure there is a skip ideal for you.
For more information, give us a call on 02 4708 2927. Alternatively, you can visit our website to order a skip bin.