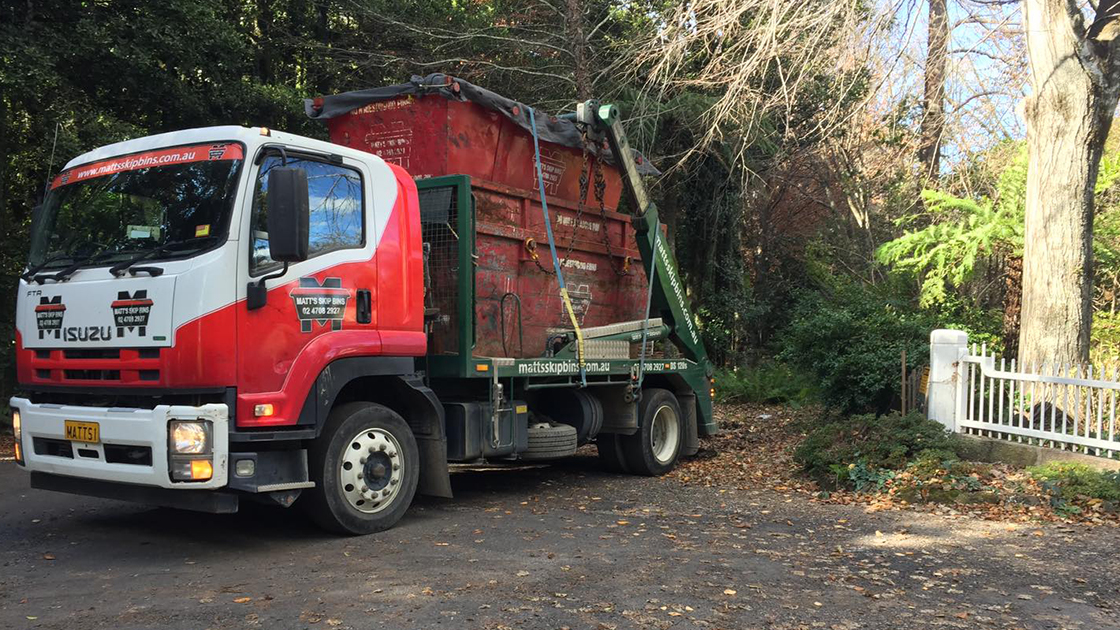 08 Nov •

3

min Read
Cleaning out a house or reorganising your office can be all fun and games until you come head-to-head with the mother of all challenges – an excessively large item. You know, the one that isn't accepted into your general curbside bin?
From desks and chairs to appliances, there are just some items that are a pain to move and waste when it is no longer needed. But fear not, with a skip bin, your job is made easy.
A skip allows you to waste these types of heavy items and more! Even when the item seems too big for your skip bin, there are tricks to getting it sorted.
Here are our tips and tricks on how to get the heavy waste into your skip bin.
Opt for a skip bin with a drop-down door
From heavy lounges to bulky cabinets, the idea of lifting a large item up and into a skip bin may seem daunting, but that doesn't need to be the case.
At Matt's Skip Bins, the majority of our skip bin sizes come with a drop-down door. This makes wasting heavy items ideal as you don't need to lift an item over the rim of your skip. Instead, you can roll the object into the container on a trolley or wheelbarrow.
This is perfect for those with a hefty object that cannot be lifted manually. As for the only bin without a door, the 2m skip is still easy to use when you have smaller but heavy items such as an old appliance. The metre height can be catered to with a platform trolley.
Put the heaviest materials in first
To make the most out of the available room in your skip bin, we suggest stacking your bin in a smart manner. This means placing the heavy waste first in the bin, followed by lighter objects.
While you should always put the flat items at the bottom to limit any wasted space, placing the heavier items at the bottom will help balance the bin, making it easier to transport. This will also ensure the heavy items have sunk, taking up as much air space as possible.
Most importantly, it will help ensure there is space for your large materials. It is essential to avoid placing the more prominent items at the top, where they can overflow. If placed at the bottom, you can work around the bulk of the content.

Break down the item
Before you put any space-consuming items into your bin, consider where they can be broken down into smaller pieces. Certain sections of furniture may be more forgiving, able to be broken down so you can achieve more space in your bin while fitting the item itself.
An excellent example of this is a bed frame. The bed put together can hog up a lot of the room in a skip (and may even be hard to fit in the bin!). If it is taken apart and stacked at the bottom, it will sit in the bin smoother and take up less space.
Furniture is usually flexible. Just remember to take it apart in a safe manner, so no one is hurt! We recommend seeing what items in your bin can be pulled apart and flattened.
---
Need more assistance with fitting in large items? Give us a call! We have been providing skip bin hire to Western Sydney customers for over a decade now; we know a few things about getting items that may appear impossible into our bins.
To learn more about our services or to explore our skip bins, visit our website.