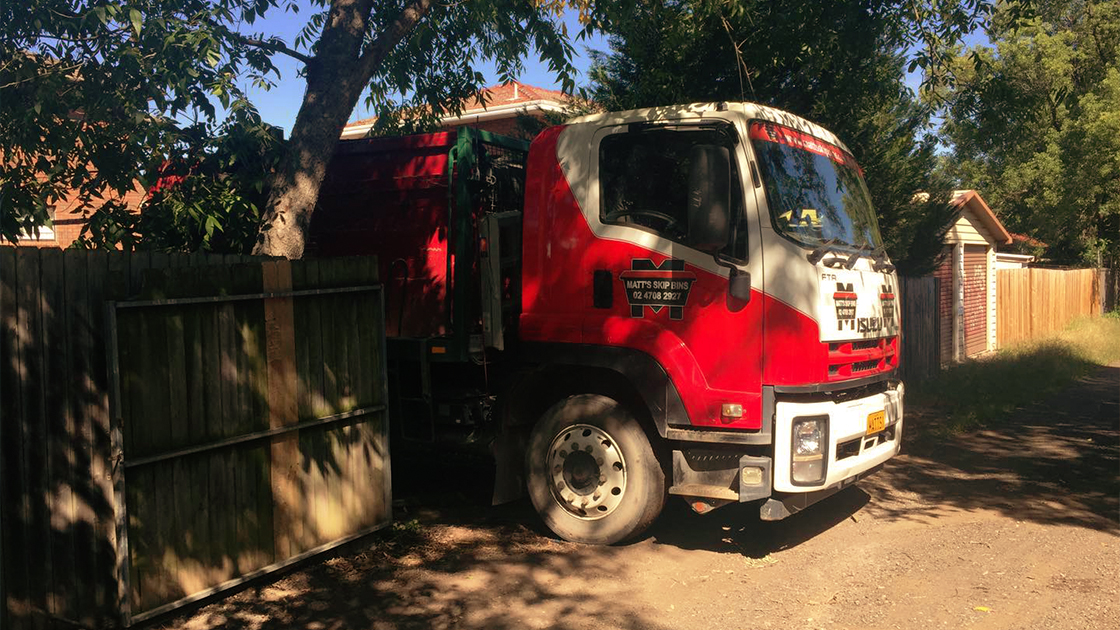 17 Feb •

6

min Read
Well and truly into 2021, now is the best time to reflect on the year that was 2020!
While it was undoubtedly an unprecedented year with a major pandemic and many world changes, our team at Matt's Skip Bins also had a big year in our trade! 
With more people at home, skip bin hire in Sydney was in huge demand, with Western Sydney being no exception. With an influx of orders, you'll be right to assume we had our fair share of challenging deliveries! From tricky driveways to questionable scenarios, our skilled drivers saw many interesting situations during the last year.
Help us look back and appreciate the hard work our drivers did with a review on the trickiest deliveries of 2020.
Tight driveway entries
Without a doubt, tight driveways will always be a factor in our work. Our trucks are no stranger to small spaces such as slim corridors between buildings and fence entryways. 
2020 did not disappoint with its fair share of challenges, the year presented many driveways with minimal space to our members on the road. 
One of the most memorable situations being this house we squeezed a bin into in early March! Stuck between the brick wall of the home and a brick fence, there were no adjusting external factors in this dilemma! 
Nonetheless, our skilled driver was able to slot our truck into the driveway with precise movement and careful consideration, successfully delivering the customer's bin. 

A few other close calls that presented similar situations later in the year included these gate scenarios across Western Sydney.

Shimmying our way through these tight gates, we were able to successfully fit our trucks past the fencing, dropping off our skips without any issues and leaving some happy customers behind! 

Lucky our trucks aren't claustrophobic because these are some limited spaces! As you can see, if you ask us if we can fit, we'll certainly do our best to say yes!
Pesky Obstructions
Another typical and expected part of our job is obstructions – and 2020 certainly came swinging with a variety of them! 
Our team was faced with an abundance of challenges throughout the year, varying from powerlines to pesky trees. Although it can be inconvenient, these obstructions were only a minor bump in our drivers' road.
Western Sydney has plenty of bushy suburbs, making our green waste skip bin a popular choice for customers in these areas. In saying this, with so much terrain, low-hanging trees and fully-grown bushes can make it difficult for our trucks to manoeuvre. 
Check out this customer's property; full of greenery, our driver had to work around shrubs and trees to meet the customer.

There was a similar situation earlier in the year where a driver sought assistance from the customer themselves! The delivery required a chainsaw to reach their destination and our driver worked with a customer to create their path to successfully drop off a skip.

While it may not be a work of mother nature, low hanging wires can also pose a similar situation but much worse due to their electrical dangers. 
The end of the year saw a few electrifying situations, with one situation, in particular, needing some deceiving powerlines to be (safely) held up to make room for our truck!

Just when you think it couldn't get more challenging, check out this property that didn't just have hanging trees nearby, but also had power lines AND a skinny driveway we had to work around. 
Talk about working hard! Despite the many obstructions, we are proud but not shocked to say our driver could still complete their delivery.

Tricky skip bin placement spots
In our job, we do our best to make sure we meet the expectations of our customers. Part of this is ensuring we leave our customers satisfied in placing their skip bin in the most convenient and accessible location for them. 
While it may sound easy, the particular site requested may be a bit more challenging to reach than it may seem initially.
With certain angles and external factors coming into play, placing a skip bin can sometimes heavily rely on strategy and skill. Don't believe us? Let us show you some of the tricky places we needed to place skips over the last year!
When delivering skip bins in the Penrith area, we often face clients who live in apartment or townhouse complexes, making the free space very scarce. 
This was no exception when we placed one of our skip bins at this apartment building in Kingswood. Squeezing a bin between letterboxes, a light post and a tree, we made do with the little room we had to place our skip!

We also had a similar situation wherein we were stuck in a sticky predicament for a reno bin drop off we did early on in March. 
Given the little room with plenty of obstacles, our trusty driver Danny was able to place a skip bin in between a footpath, telegraph pole AND a tree! He certainly had his work cut out for him.

Another memorable time during the year was towards the end, where we were requested to place a bin with VERY little room at a unit complex. And when we say little, we mean a few milometers of space to buffer! Eventually, we were able to safely fit a skip in the small space available between a cement block wall and scaffolding. This was definitely one for the books!

Difficult driveways
Did you know there are many contributions to a driveway that can make it challenging to navigate through? On top of the expected tight entryway and external obstacles, the nature of a driveway or passageway itself can test our delivery process.
Not sure what we mean? Check out these noteworthy driveways we conquered in 2020!
As mentioned earlier, shared complexes can be a tricky scenario and the limited space doesn't just impact our skips — it can also affect our trucks! 
In April, we had a customer located at the back of a townhouse complex order a skip. While these driveways are already narrow, the path was also winding and curved, making it even more challenging! 
But spoiler alert, we still made it through with little struggle!

Although different to complexes, established suburbs around Western Sydney have smaller streets that access homes, including laneways, that pose similar trouble. 
While they are certainly cute, laneways are also generally small, making it a little bit tricky for our deliveries. Check out this delivery we made in Richmond! 
Despite it was tight, we slowly but surely made our way through the access gate with tight turns the whole way through!

Other than laneways, many established suburbs, especially those rural, have properties with longer driveways. Navigating through long driveways is a mission in itself. They are usually lengthy off-road passageways that have an incline or decline that can test our trucks. 
While it certainly isn't the most intense driveway we've had to cross, this driveway we saw in September was also not the simplest! On a sloping road with a rocky surface, this narrow driveway was a delicate situation. 
Winding our way through the property, we managed to reach the bottom and place the bin successfully, proving that even in tricky conditions, we come through!

---
Now that you have witnessed some of the most notable deliveries we got to experience in 2020, you know we are the team for you! If you are looking for skip bins in the western region of Sydney, look no further than Matt's Skip Bins. 
Reputable, transparent and honest with affordable prices, we come through for our customers no matter their skip needs.
Book your bin online now or give our friendly staff a call on 02 4708 2927 to discuss your requirements.