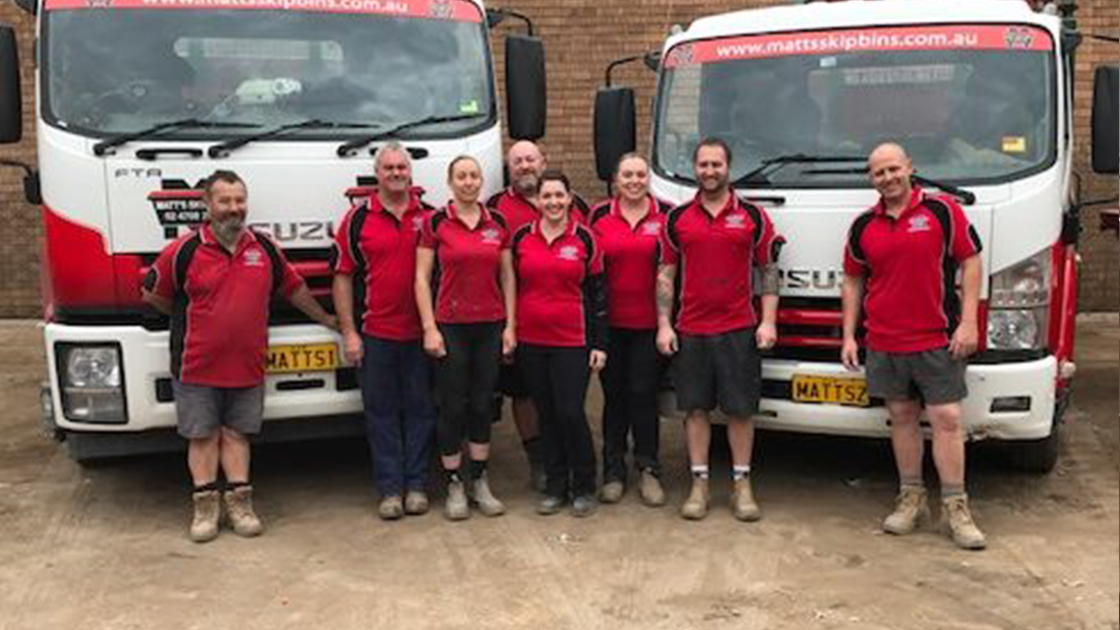 07 Jul •

3

min Read
So, you know about our skip bins, but how well do you know the Matt's Skip Bins team?
Providing skip bins across Sydney, we pride ourselves on the hard-working team we've built across the years. Being the local go-to waste solution for the Western Sydney region doesn't come without its challenges, but with our team, we make the most of it and deliver every time.
Like one big family, our team of 16 includes some of the best in the business. Made up of quality characters across various roles, discover how big our team is.

The Founders
Established in 2010 by director and namesake Matt, Matt's Skip Bins is proud to be a family-operated business. Run alongside wife Jess, who is also the Business Development Manager, the power couple oversees the entire operation to ensure everything runs smoothly.
In addition to making sure the business runs as planned, the husband-wife team enforce the business's initial values of honest and affordable skip bin hire in addition to quality customer service. This allows the operation to remain a customer-focused company while providing an ideal waste solution for our customers.
You may even come across Matt or Jess, who is heavily involved in all processes, helping out where needed and dedicating their time to the family business. Learn more about Matt's Skip Bins story here.
Our family at base
Back at HQ, you will find two separate teams – our office and factory teams.
The first point of contact when hiring our services, the lovely members in our office cover the administration side of each hire. It doesn't matter if our skip bins are booked online or if a hire is made over the phone; they handle the initial contact with every client. As organisation experts, their roles include:
Invoicing customers
Updating the system and booking jobs
Allocating and scheduling drivers
On the other side of the lot, you will find our factory team. These hard workers are the ones who personally go through the content of each skip bin to ensure all the materials are wasted accordingly. This labour role is not an easy task, but it's efficiently done by our heavy lifters! But it isn't all just work; the team often finds some unusual items, making each day interesting!

Our members on-the-road
Beep, beep! On the road, we have a whole different team. Our experienced drivers are out and about delivering and picking up our bins across the Western Sydney region in various suburbs.
Our professional and reliable drivers are legends in their own right. Not only do they have the challenging task of making their way around some unpredictable properties, but they are also talented manoeuvres who are masters at moving skips in sticky situations. They may come across tight and questionable scenarios, but always work to get the job done somehow!
To further add to their skills, they need to strategically restack a bin when it is required to fit as much in when bins come overloaded. They're real-life Tetris pros!
---
Do you have an enquiry about our skip bin hire services? Contact our friendly team! Send us an enquiry through our website or call us on 02 4708 2927.
For any skip bin bookings, head to our online booking form now.