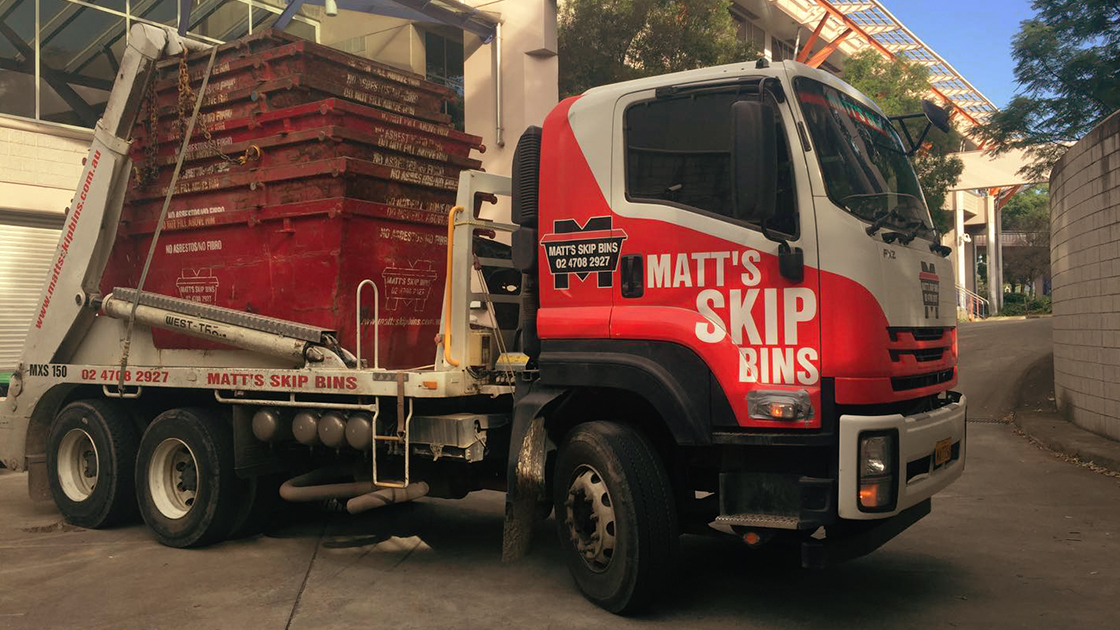 10 Apr •

3

min Read
A dream, hard work and determination – this is the proven recipe that has transformed Western Sydney skip bin hire company Matt's Skip Bins to the thriving operation you see today.
Stemming from humble beginnings, Matt's Skip Bins has proudly evolved and grown since the early stages of our operation. 
With continuous effort and dedication, we have maintained our commitment to recycling and quality customer service to get to where we are today.
But there is more to know about our company and the service we provide. To see why we are the skip bin hire company in Sydney you should trust, we invite you to learn about our company's history, journey and where we are headed.
The beginning of Matt's Skip Bins
Setting out to establish his own company, director and the namesake of the business, Matt, established Matt's Skip Bins in 2010. 
Backed by industry experience in transport and a dream of successfully running his own operation, our founder ventured into the industry with only one truck and 11 skip bins in his possession.
Based on a commitment to making customers happy, Matt's Skip Bins has been dedicated to providing excellent service from the very beginning. As a customer-focused company, the goal was to provide a skip bin business that was friendly, honest and affordable.
With his dream in sight, Matt put in the hard yards from the get-go to deliver this high standard of customer service. This meant undergoing countless hours of labour and working with restricted manpower and initial tight budgets, all done with a smile and friendly manner. 
Using his industry knowledge and commitment to customer services, Matt persevered through the initial difficulties. He used this goal as his drive for success to ultimately climb up the ranks and become a business you can trust and rely on.
What our skip bin company has accomplished so far
Now clocking over a decade in operation, Matt's Skip Bins has proudly achieved several milestones. 
While it has not always been smooth sailing, the team has used its resilience to bounce back from challenges and keep delivering the customer service you know today.
Through the continuous efforts of our team, we have proudly acquired multiple nominations in the services and trades category for the Penrith Local Business Awards. 

Our team's hard work is to thank for the accomplishments we've achieved so far. Still, we are continuously grateful for our customers' support, helping us get to where we are today.
One of the most significant opportunities and accomplishments we have experienced yet is acquiring a fellow skip bin company, Anyfil. 
We have proudly expanded our already growing collection by merging and taking over Anyfil and putting it under the MSB management.
From gaining a whole new site (we now work from two yards!) to broadening our collection of now over 230 skip bins in various sizes, the merger has been a success in letting our business thrive!
On top of that, we have introduced new equipment, including additions to our truck family. Beginning with a single truck, we are proud to serve the road in multiple trucks, ranging in different sizes to cater to our differing skip bin sizes.
The future for Matt's Skip Bins
Our team has seen ongoing growth since it was established. Initially leading a small family-operated business, the team at Matt's Skip Bins now consists of 11 staff members and doesn't plan on slowing down!
To deliver and maintain the responsive service and standards we uphold, we have plans of extending our team so we can continue providing the workforce we require to run successfully.
Furthermore, we plan to continue maintaining our equipment, keeping up with the newest in innovation to keep providing quality skip bin hire across the Western Sydney region.
From our experience in the business so far, we know plans can change. So, while we are confident that we will keep delivering the unmatched service our customers desire, who knows what else life has in store! Stay tuned to find out!
---
To stay in the loop and be the first to know any important updates, keep an eye on our business by following our Facebook and Instagram pages.
Furthermore, to experience our quality service for yourself, we invite you to hire our services for all your skip bin needs in Western Sydney. 
For convenience, you can call our team or order our skip bins online. To speak to our friendly team, contact us on 02 4708 2927.