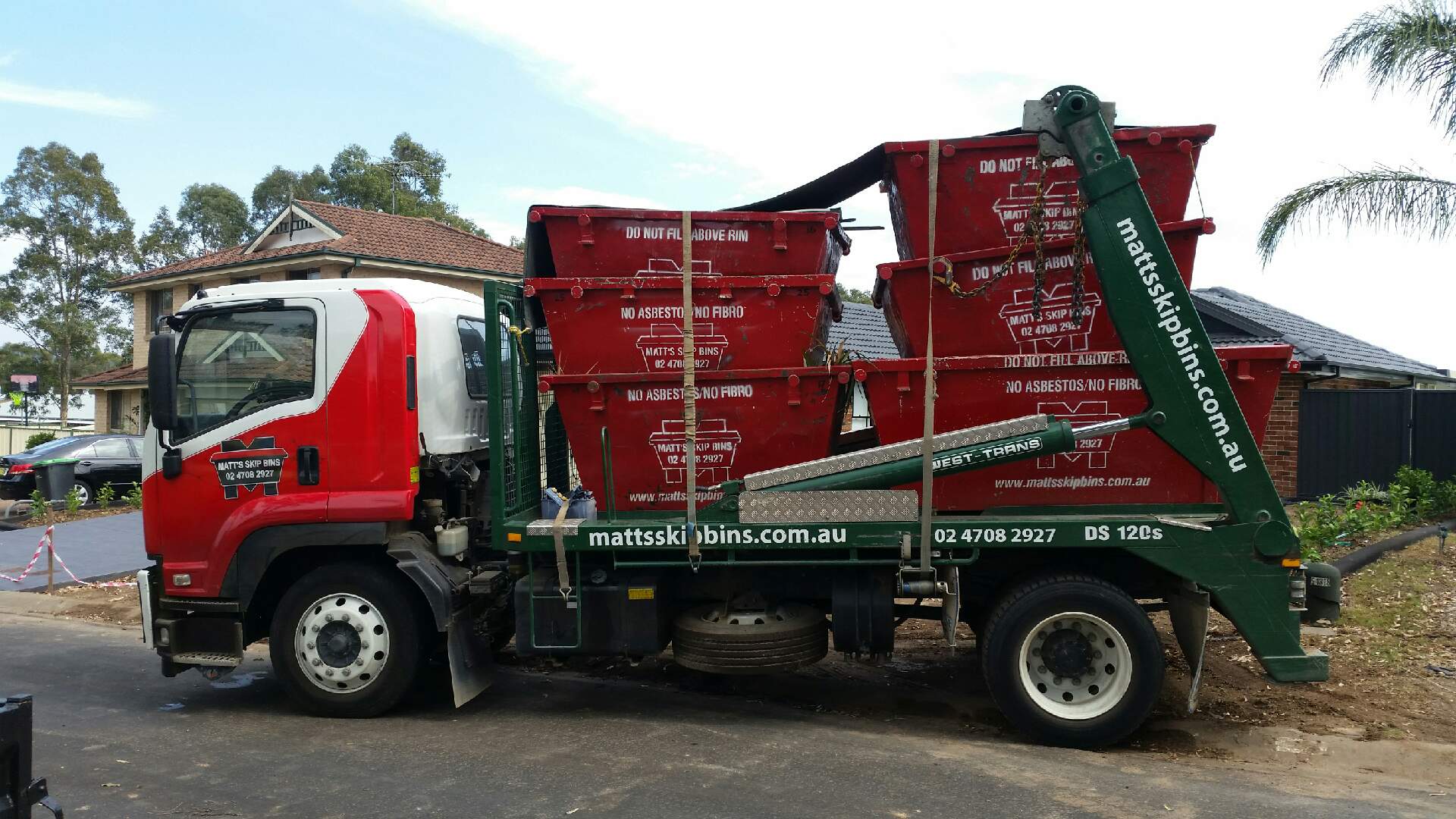 11 Jul •

5

min Read
Are you after a skip bin, but not too sure which size you'll need? This is perfectly normal! You might have an idea of what you're throwing out, but not quite certain which size will be big enough to fit your stuff.
Luckily, Matt's Skip Bins has years of experience with skip bins in Sydney. With our wide range of sizes available, we can give you the helpful advice you need when it comes to choosing the right size.
Keep reading below to find which bin size would be best for you.
Considerations
Firstly, you need to consider what you will be throwing away. From a green waste bin to a construction skip, your reason for ordering one can change the size you will need. This can also affect whether certain sizes are available for particular waste types. Luckily, with Matt's Skip Bins, the majority of skips for different waste types are offered in most sizes.
When thinking about this, you should take into consideration the area you're planning on going through and the amount of waste. Thinking about this will help you determine how much you are expecting to throw away and will, in turn, give you a good idea of the skip bin size you'll require.
You should consider where you are placing the bin as well. This might affect the size you want as you may not have the room for a large skip but rather, a small 3 cubic metre skip only. It can also be a good idea as you may have to relocate where you are placing your bin if you require a bigger one.
When considering your location, you will need to consider whether you require a council permit. Read our recent article on council permits to decide whether this will affect you. Getting one usually won't impact your skip size but you should enquire about it if you want to be safe.
Handy tips
When it comes to your clean out, Matt's Skip Bins has some handy tips you might want to think about.
For example, do you know exactly how much waste you will be getting rid of? More often than not, you will end up throwing away more than you originally intended. Therefore, we recommend you write a list of what you plan on throwing away. This will not only help you get a good idea on the space and skip size you'll need, but also help you get organised and prepared for when your bin is delivered.

Another great tip is to go through and decide what to keep and throw out BEFORE you order a skip bin. By categorising it into piles and having one ready to be thrown out, you'll know exactly how much rubbish you have and what type of waste it is. This will help narrow down exactly which size and what bin you'll need.
If you don't have time to sort through your waste or write a list, we recommend going with a size bigger than you would have guessed. By having a larger size, you are preparing for most of the waste you will likely throw away. We find that a lot of people end up having more waste then they assumed, so having a bigger skip bin than originally planned will cater to the extra rubbish.
Recommendations
Still not sure about which size to go with? Please find below some recommendations we have for certain situations.
Are you planning on cleaning out your garden? When it comes to our green waste skip bins, bush and shrubs can take up a lot of space. Have a small yard? We suggest one of our 3m skip bins. Maybe you live on acreage and need to clear out your extensive garden and bushland? Our 10m green waste skip bin would be perfect for this scenario!
About to start home renovations? Our 4m skip bins are the best solution for smaller home improvements such as kitchen remodels. Or maybe you are a building company in charge of a large home renovation? Our 9m skip bins will be the ideal choice to suit all your waste.
In need of a spring clean out? You'll want to get the right size of skip bin that will fit all your unwanted items. For a light tidying up that will focus on one room, a 2m skip bin will be perfect for you! Maybe you're moving and need to clean out the whole house? The 6m skip bin will be the right choice to accommodate all your rubbish!
Are you in charge of a small construction project? You'll be happy to know we offer 4m skip bins that will be perfect for your needs. Do you have mixed building waste from a large-scale construction site? Then we recommend a 10 cubic metre skip bin to fit all your waste!

Before you choose…
Before you choose, have you considered whether your skip bin will need a door? We know a lot of customers are getting rid of heavy materials and objects. Therefore, a door can be extremely useful for those tricky items.
You'll be relieved to know that apart from our 2m skip bins, every other size comes with a door to allow easy access for your convenience. If you want a door, we suggest upgrading to a 3m skip bin or larger.
Also, please keep in mind that bins can only be filled up to the rim due to safety and transportation reasons. This is also why it's always ideal to order a size up from the size you originally thought. Not only will this allow more room, but it will ensure you won't go over the rim.
Furthermore, if you are still unsure about which size you need, we offer a bin size estimator table that will show you the exact measurements. This will give you a good idea of the actual size of the skip varieties we offer. View our table to inspect the measurements of each skip size.

---
Want further information on our skip bin sizes? Have a look at the individual bin sizes on our website for more details! Matt's Skip Bins offers a large array of bin sizes that will have the right fit for you.
Ready to book your skip bin? Call us on 02 4708 2927 or order your skip bin online today!