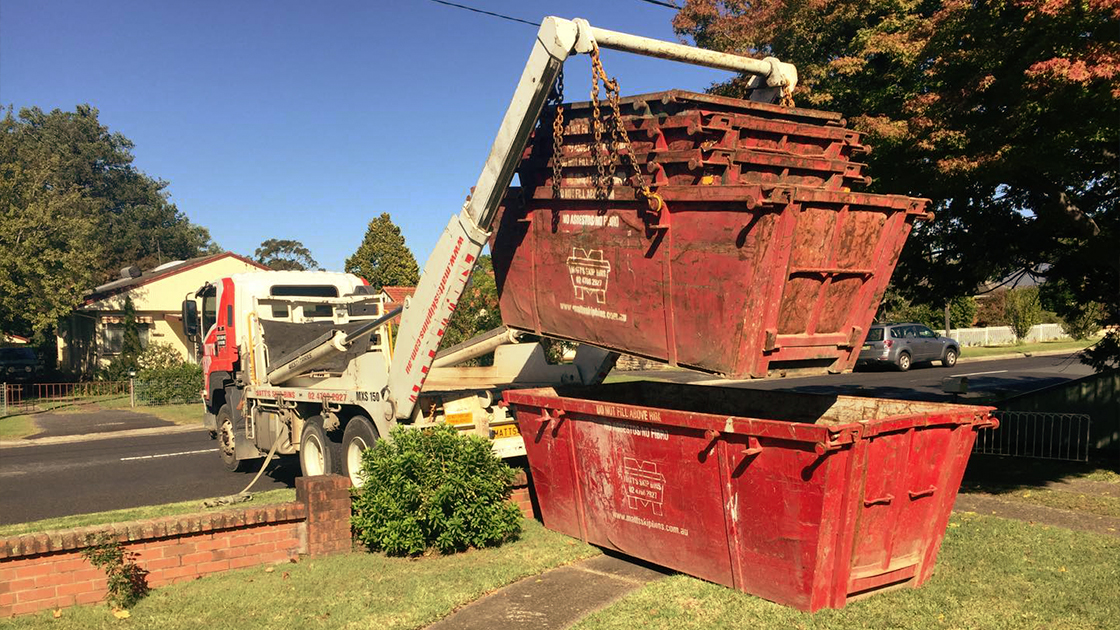 18 Mar •

4

min Read
Renovations, new builds and general clean-ups – these are common reasons customers need our skip bin hire services in Sydney. But while they may seem to have similar purposes, not all customers need the same size bin.
In fact, the required bin size can range depending on the job and situation. At Matt's Skip Bins, we offer a large collection of bin sizes for you to pick from. With small, medium and large bins, our skip bins cover a variety of capacities, guaranteeing a skip bin suited for all needs.
Need help deciding the best one for your situation? To discover our bin sizes and which one would suit your requirements, keep reading below.
Small-sized skip bins
Are you expecting a very minimal amount of waste? Not planning on chucking too much and just need a solid yet minimal waste solution that offers more space than the standard council bin? Then check out our smallest range of skip bin sizes!
2m skip bin
As the smallest bin in our collection, our 2m skip bin is perfect for those who need to throw out a minimal amount of waste. To put it in perspective, this bin size carries the same load as two standard car trailers. It can fit up to three tonnes of heavy materials (including dirt, bricks and concrete).
This size is well suited for the smallest of spring cleanings, tree pruning and other little backyard clean-ups. It can also cater to renovation projects on small rooms, such as ensuites and laundries.
The 2m skip bin is available in all waste types.

3m skip bin
The second smallest in our collection, 3 cubic metre skip is ideal for those who need a small waste solution that is a little bit bigger than the 2m size. It can carry approximately 4.5 tonnes of material, correlating to three standard car trailer loads.
The 3m skip is best for a small shop, yard and garage clean-outs and renovations. It is also a good option for household cleanouts, renovations on kitchens and bathrooms and minimal excavation jobs.
The 3m skip bin is available in all waste types, coming with a door suited for wheelbarrow access.
Medium-sized skip bins
If you are looking after a site or planning a renovation that is expected to produce a decent amount of waste, you need a medium waste solution!
By ordering one of our medium bins, you are getting a decent amount of room for more waste or larger items. You can also cover your project with extra space in case you have more waste than expected.
Discover our medium skip sizes below.
4m skip bin
If you weren't sure whether you need a small or medium size skip, our 4 cubic metre skip bin would be your best answer. Carrying up to six tonnes of rubbish, this bin size can fit up to four standard car trailer loads.
On the line between both the medium and small categories, this bin size will be great for those small projects that include large or bulky objects. This includes renovation projects, landscaping projects and furniture disposal.
The 4m skip bin is available in all waste types and comes with a door for wheelbarrow access.

6m skip bin
Strictly need a medium-sized skip? Then the 6 cubic metre skip bin is the right size for you! The 6m skip is the middle size in our collection and can take up to six standard car trailer loads of waste.
Due to its average capacity, this bin size is recommended for mid-sized outdoor projects, landscaping jobs, shop fit-outs and renovations. It is also well suited for moving house clean-ups and as a waste solution for carpentry jobs.
The 6m bin comes in all waste types and includes a wheelbarrow access door.
8m skip bin
On the fence between getting a medium or large skip? Our 8m is the ultimate choice. Sitting on the cusp of both categories, our 8m skip bin can fit up to eight standard carloads.
This bin size is ideal for small commercial construction projects, mid-sized commercial renovations, residential construction jobs and small to mid-sized factory clean-outs. Situations it would be a good size for include events of large tree pruning and roof tile removal.
The 8 cubic metre skip bin is available in all waste types and features a wheelbarrow access door.
Large-sized skip bins

For the largest of projects, we understand you need a solid waste solution that will cater to big piles of waste while allowing room for unexpected amounts along the way. To ensure you have a reliable skip bin that can cover your requirements, explore our largest skip bins.
9m skip bin
Do you have a larger project on your hand? Our 9 cubic metre skip is sure to do the trick! It can fit a whopping nine standard car trailer loads of waste. This bin will certainly have you covered!
Ideal for multi-room residential and commercial projects, the 9m bin will suit factory clean-outs, housing developments, construction projects and large-scale landscaping jobs, including excavation and bush removal.
The 9m skip is the largest size to come in all waste types. It also comes with a drop-down door for easy wheelbarrow access.
10m skip bin
For the most extensive of projects, you'll need a mammoth waste solution.
Have no fear, our 10 cubic metre skip bin is here! Designed to hold approximately 10 standard car trailer loads, you'll have no waste worries with this bin type.
This bin is the ultimate solution for situations producing the largest of waste. The size is best for residential and commercial renovation and construction jobs, large factory building clean-outs and deceased estate clean-outs.
The 10m skip bin is available in our general waste, mixed building waste and green waste categories. It also has a convenient drop-down wall to allow easy access.
---
At Matt's Skip Bins, we have a size for all waste needs. Have a question on any of our skip sizes? Give our friendly staff a call on 02 4708 2927! We will be more than happy to answer any of your enquiries or help you find the right solution.