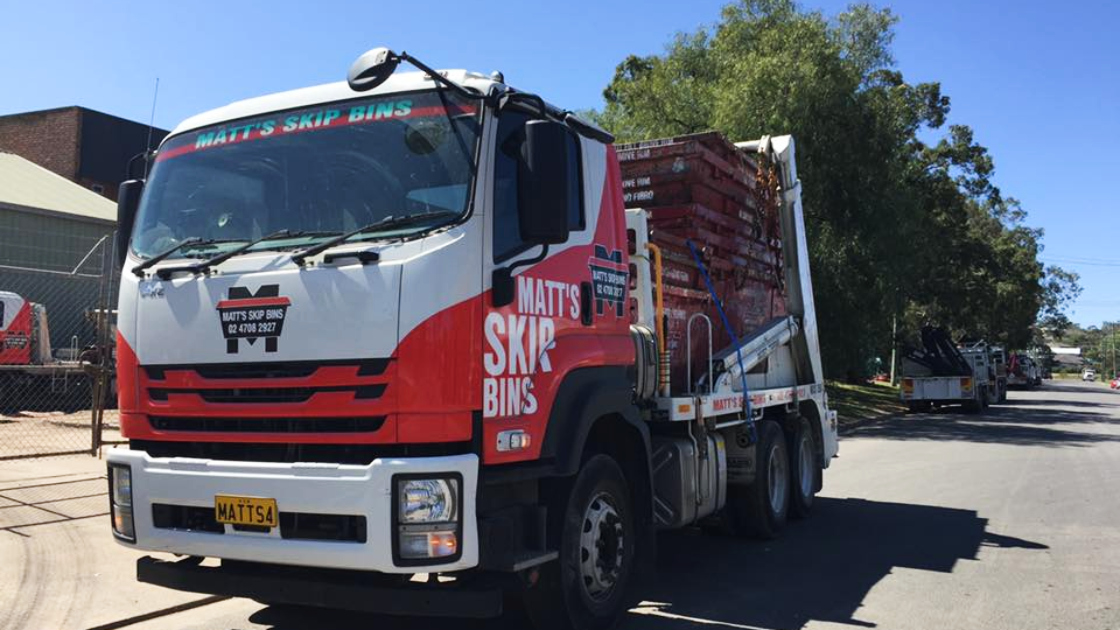 14 Dec •

5

min Read
When it comes to providing skip bins around Sydney, we want to ensure our customers are getting the most reliable and convenient service possible.
That is why we try our best to come up with new ideas that will help our customers get more out of their experience with us.
A function we have recently revamped is our 'Book a bin' feature. It is a handy way for customers to order a skip bin, so you can have your waste solution sorted in no time.
To find out more on this feature, keep reading below.
Introducing our online booking function
Organising your skip bin hire in Sydney has never been so easy! After a long hard day running around, it can be difficult trying to remember to organise a skip bin during business hours.
While many businesses may require you to call them to arrange a skip, our team here at Matt's Skip Bins has tried to make the process a little bit easier by expanding the ability to order online!
That's right! So, whether you want to order a bin late at night or if you remember to do it just before work early in the morning, you can organise a skip bin in a matter of minutes. And best of all, you don't even have to speak to anyone to do it!
Conveniently turned into eight easy steps, you can quickly have an order placed, only needing to wait for your bin to arrive!
And not to mention, for those who are feeling extra prepared, you can book months ahead, making your next renovation a little bit less stressful.
Compressed into a mere two pages, this booking function takes a minimalist approach, so you don't have to think too hard and can do what you need to do quickly and easily.
How to book your skip bin online
It is simple! All you need to do is know the details of your skip bin hire.  Once you know what you need and when you need it, you can go straight to our website and get going.
Extremely simple, select the 'Book a bin' menu option or go through the 'Get a quick quote' feature on the home page.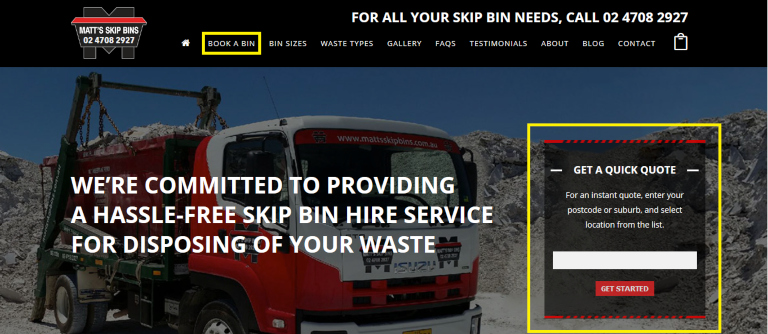 Once on our booking function, you will need to answer the necessary info such as the location, the skip waste type and size and the dates you need it.
You can also choose to add any disposable extras such as car tyres and mattresses if you wish.
After this, you are already halfway through the process, just needing to put in mandatory information such as your details, the delivery address and payment method.
Once this has been filled out, you just need to place your order – simple!
The perks of ordering a skip online
What makes ordering skip bins online so great is the many perks that come with it.
Firstly, you can order a skip bin on your time, any time. This means you can do so during your break, on the bus or while you are sitting back and watching T.V. Our booking form is always on and ready to go, giving you the ability to order a skip out of business hours, whenever you are ready.
Secondly, you don't have to wait in line! You don't even have to call to get a voice mail when we've left for the day. Unlike a phone, there is no opportunity to be 'on-hold' or unavailable. Instead, this streamlined process is instantaneous and swift.
And thirdly, ordering online means there is zero need for human interactions. You just need to place all the required details in and then you'll have your skip sorted in no time. It is straight to the point and effortless!
Payment options for our online booking system
When you book online, you can pay upfront online without having to wait for one of our staff members to give you a call to pay manually. And the best part is, you have more than just a singular payment option, giving you the choice of how you would prefer to pay, ready at the tap of a finger!
Booking online with Matt's Skip Bins means you can pay with more than just a credit card. For instance, we know many prefer to use the service PayPal as it provides more security and peace of mind. That is why we offer the ability to pay through PayPal, giving you the choice of either option!
The types of bins that can be booked online and what can go in it
All of our bins can be ordered online. This includes all waste types and bin sizes. The waste types we offer include general waste, mixed building waste, bricks & concrete, dirt & clay and green waste.
While we offer all sizes, certain waste types are not available in the larger sizes due to weight constraints. The sizes we offer in general include 2m, 3m, 4m, 6m, 8m, 9m and 10m.
You can also order any additional products to be added to the bin, including mattresses, car tyres and truck tyres.
For what can go in your bin, we recommend exploring the waste time you request for further information on each category. As a general, we do not accept food, asbestos, liquid, chemicals, oils, paints, fire extinguishers or gas bottles in our bins.
If you do have materials containing asbestos, please do not order a bin for these items. Instead, give us a call on 02 4708 2927 for further direction.
FAQs about booking skip bins online
How quickly can I get the skip after I order it online?
When you order your skip bin online, you could get it as early as the next day! As long as we have the requested skip and select the next day available as your delivery date, you could have your bin on-site in no time.
How long can I keep the skip on my site?
Generally, when you book a skip bin online, the option for your pick-up date will allow up to two weeks from when you have the bin delivered. However, if you need an extended date or if you would like to have a long-term swap service, please give us a call on 02 4708 2927 before booking online for further direction.
How do I know which skip bin type would be best for me?
To find out which skip bin would be best for you, you will need to consider what you need your bin for and what materials you will be wasting. This will help you select the right waste type you need. Knowing how much waste you have will also help you determine the size required. Visit our website to learn more about the different waste types and sizes.
What payment options are available to online orders?
When ordering a skip bin online, we offer two payment options. This includes paying through a general credit card or PayPal.
Can I get a quote before I order my skip?
Certainly! Transparent and upfront, we calculate the price while you are ordering. As long as you fill in the details of your order, we can provide you with an obligation-free
---
Are you ready to get your skip bin ordered? If not, don't stress, you can do it later tonight or just whenever you find time by visiting our website.
If you would prefer to make your order through the phone, we still offer this option too. Simply give our friendly staff a call on 02 4708 2927.
*This blog has been updated on December 2020.