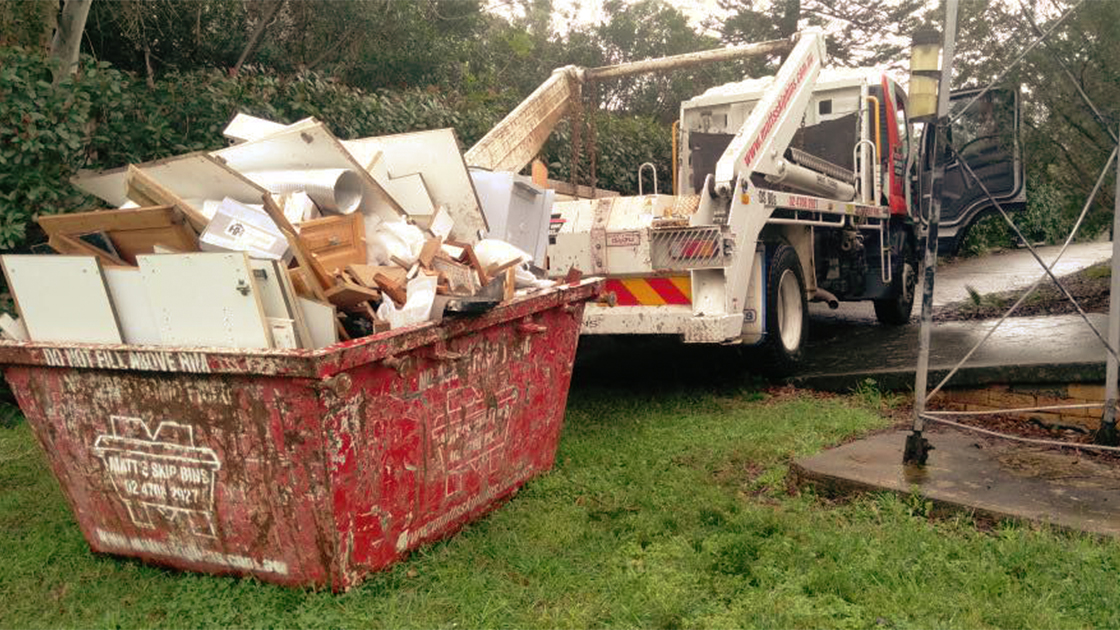 19 May •

3

min Read
While most household and business waste can make its way straight into a skip bin, it is essential to know that not EVERYTHING can go in a skip bin. 
Some waste is hazardous and dangerous, and it needs to be disposed of separately through a particular method. 
If you're hiring a skip bin for your renovation or de-cluttering project, it's important to know the facts and what can and can't go in your skip.
To see what can't be disposed in a skip bin, have a look below.
Paint
Most paints are classified as hazardous waste due to the high level of chemicals found in them. This means it can be harmful to humans, animals and the environment. 
Because of the harmful impacts, paint should not be disposed of in a skip bin. While we can accept washed out empty cans of paint, we cannot take cans with paint still inside. 
Instead, look for a waste solution that safely accepts paint. This includes a chemical drop off event where it is safe and free to dispose unwanted chemicals, such as paint. Alternatively, there are also paint recycling services out there that ensure your paint is ethically recycled. 
With multiple paint disposal options around, make sure you think twice about throwing your leftover paint in your home or skip bin and consult the professionals.
Motor Oil
Throwing motor oil away or even pouring it down the drain can seriously diminish the effectiveness of your city's wastewater treatment process. Its harmful contaminants can have a severe impact on our water quality and also soils.
Just like paint, motor oils should be handled delicately when it comes to their disposal. Due to its similar impact and hazardous contaminants, motor oil needs to be disposed properly. It is also easily recycled, even when dirty, meaning it is vital to recycle for future purposes.
When getting rid of any leftover motor oil, you have a few options. This includes a chemical drop-off event or alternate independent recycling centres and landfills that accept oil. 
Supercheap Auto also offers an oil recycling program to guarantee a safe disposal facility.

Asbestos
In New South Wales, it's illegal to dispose asbestos in your regular kerbside bin or in a rubbish skip that doesn't accept the material. 
If the asbestos is damaged or disturbed, the materials contained in it can pose a serious health risk to those who contact it. For the removal of asbestos, it's crucial to hire a licensed asbestos removalist. The professionals will make sure that no one is harmed in the process and will properly dispose such materials.
As for getting rid of asbestos, it should be transported in a covered and leak-proof storage solution and should only be wasted at a facility that accepts asbestos. However, due to the nature of the situation, it is better to hire a removalist who will dispose it for you.
Gas Bottles
A single empty gas bottle can pose a safety risk to your local waste facility and removal workers. It is easy to explode or start a fire, making it incredibly important you ensure no gas bottle finds its way into your skip bin during your renovation or de-cutter project!
Instead, waste any gas bottles that cannot be reused at household waste recycling centres. 
Alternatively, if you have a gas bottle that can be reused, opt to have it refilled or swapped. Gas bottles can be quickly filled and reused again in your own home or by the gas company themselves.
---
We hope these tips will help you remember that next time you hire a skip bin for your home or business, you know how to keep you and your local waste company workers safe. 
Make sure you know how to dispose of any potentially dangerous goods and, if you're ever unsure, call your waste disposal company to get the information you need.
For expert, reliable skip bin hire in the Western Sydney area, give Matt's Skip Bins a call on (02) 4708 2927.