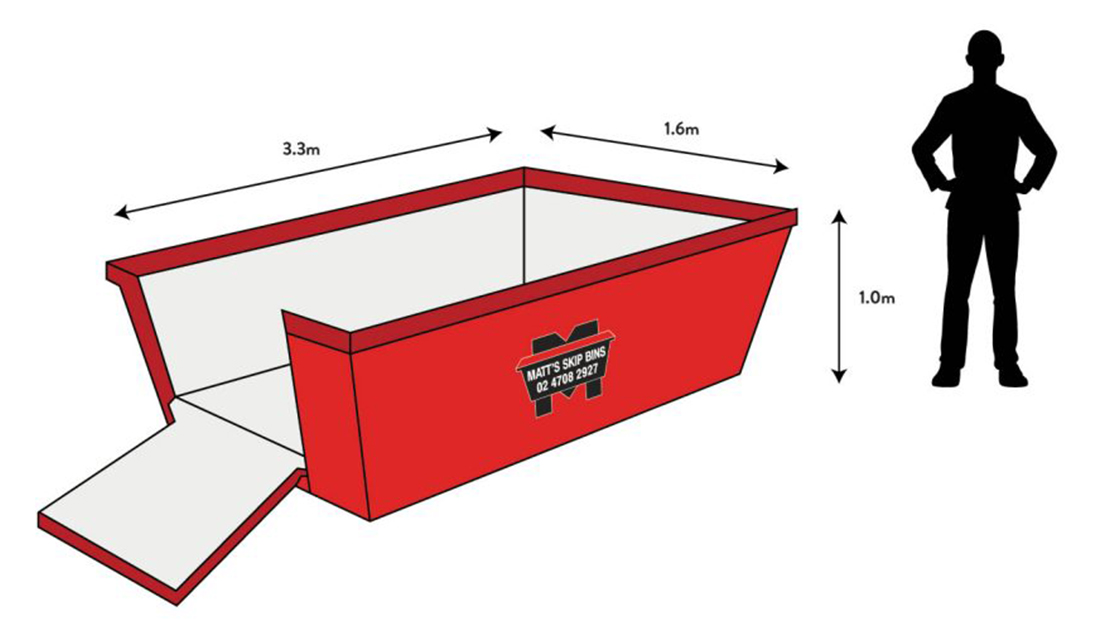 09 Nov •

2

min Read
Introducing the smallest member in our collection of medium sized-skip bins – the 4 cubic metre skip bin. As the next size up from our small collection of 2m and 3m bins, this sturdy waste bin is the best option when you need a small to medium choice.
Providing more room than our small collection, the 4m skip offers the right amount of space when you have a waste situation that is not quite small yet not too big.
The 4m skip bin is perfect for waste amounts that are bordering average-sized. It is your go-to solution when you need a decent amount of space.
Are you looking to hire a 4m skip? Here's what you need to know.
Dimensions of the 4m skip bin
As a medium-sized bin, the 4m skip offers a solid amount of space for moderate-size waste situations. The dimensions are as follows:
Volume: 4 cubic metres
Length: 3.3 metres
Width: 1.6 metres
Height: 1.0 metres
In total, this bin size can fit up to 4 standard car trailer loads of waste. With the heaviest load possible, this equates to 6 tonnes of rubbish.

The waste types a 4m skip bin is available in
The 4m skip is available in all waste types and comes with a drop-down door, which is a great convenience. This makes it ideal for situations that require waste to be wheeled in, as you don't need to lift it over, limiting any potential injuries.
The 4-metre bin is available to hire for:
General waste
Mixed building waste
Bricks & Concrete
Dirt & clay
Green waste
Please note that some materials cannot be wasted in our skip bin. This includes paints, liquids, chemicals and other hazardous substances. Some items, such as car tyres and tree trunks, also incur an additional charge. Click here to learn more about what can and can't go in a skip bin.
Situations the 4m skip bin is suited for
Do you want to hire this skip bin size? The 4 metre bin is an excellent choice for small to medium-sized waste situations. It provides ample room for small projects with large and heavy items that need to be wasted.
This size would be ideal for most mid-sized jobs, which include renovation projects and small landscaping situations. It would suit both average kitchen and bathroom renovations. The 4m skip would also be well-suited for small to medium size store renovations.
It is also ideal for spring cleanouts where large furniture is disposed of. For these types of projects, you'll usually find yourself needing to get rid of plastic and light-timber waste products. It would also be suitable for moving situations when you are downsizing and want to get rid of old items, or simply want to refresh your style.
---
If you're looking for a 4m skip, trust Matt's Skip Bins. Our team provides reliable skip bin hire to Sydney customers, including residents and business owners in the Western suburbs. For more bin sizes, you can explore our full collection on our website.
To find out more, visit our website to book your hire or call our friendly staff on 02 4708 2927.