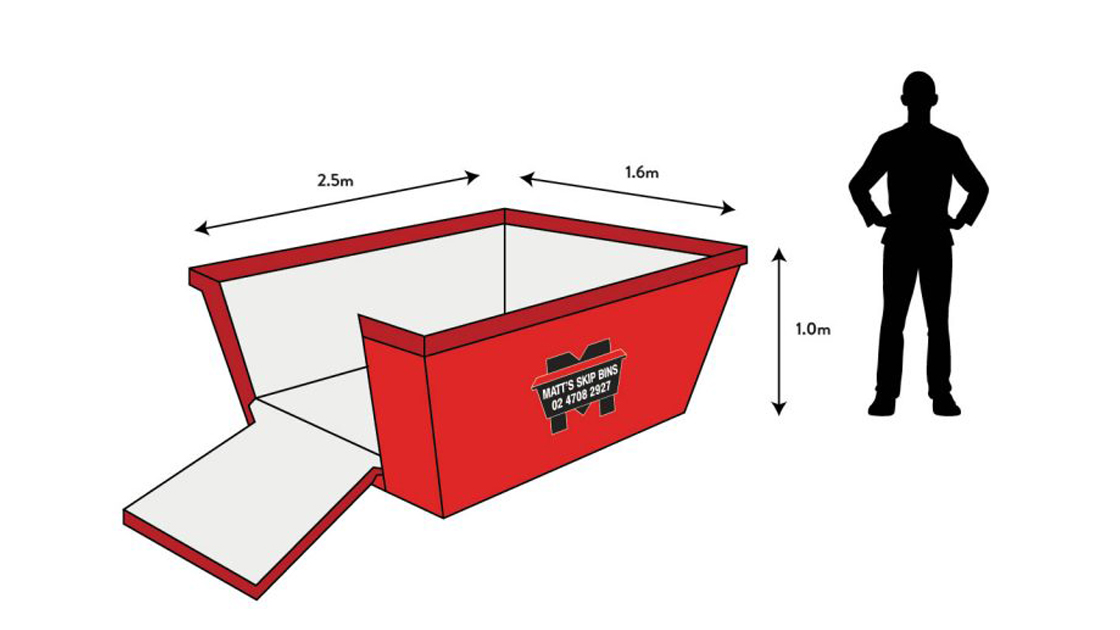 04 Oct •

3

min Read
Introducing the second smallest member in our collection – the 3 cubic metre skip bin. As the next size up from the 2m skip, this sturdy waste solution is the other option in our small-sized skip bin range.
The 3m skip provides a decent amount of space for a small container, offering slightly more room than the 2 cubic metre skip bin. It is also the smallest of our bins to come with a drop-down door.
Perfect for waste situations that are small but nearing medium size, it is your go-to solution when you need a small bin with a door.
Are you looking to hire a 3m skip? Here's what you need to know.
Dimensions of the 3m skip bin
As one of our small skip bin sizes, the 3m offers a surprising amount of space for a small bin. The dimensions are as follows:
Volume: 3 cubic metres
Length: 2.5 metres
Width: 1.6 metres
Height: 1.0 metres
In total, this bin size can carry up to 3 standard car trailer loads of waste. This equates to approximately 4.5 tonnes of materials.
The waste types a 3m skip bin is available in
The 3m skip is available in all waste types! This size is also the smallest of our skips that come with a door. This makes it very appropriate for heavy loads of waste that need to be wheeled into the skip and would be a struggle to lift over.
The 3-metre bin is available to hire for:
General waste
Mixed building waste
Bricks & concrete
Dirt & clay
Green waste
Please note that some materials cannot be wasted in our skip bin. This includes paints, liquids, chemicals and other hazardous substances. Some items, such as car tyres and tree trunks, also incur an additional charge. Click here to learn more about what can and can't go in a skip bin.

Situations the 3m skip bin is suited for
Are you interested in hiring this skip bin size? The 3-metre bin is the ideal waste solution for small to standard-size waste situations. It isn't just great for renovations but also great for thorough household clean-outs.
The 3 metre skip bin is often ordered for standard-sized bathroom renovations as it is the perfect size to accommodate the majority of waste generated in these situations. It is also a great option for other renovations and clean-outs, including kitchen renovations and general household spring cleaning projects. You can maximise its use with several furniture pieces being disposed of.
Due to the space, this size is also recommended for small shop fit-outs and garage and shed clean-outs. It is a size for small excavation projects.
Is the 3m skip bin the right bin for you? Check out our website, where you will find an instant quote and be able to book this skip on our online booking form. Not sure if this is the right size for you? Head to our bin sizes, where you can explore our complete collection.
---
Small, medium or large, Matt's Skip Bins covers all waste situations. We proudly offer seven bin sizes, allowing us to provide comprehensive skip bin hire to Sydney customers across the Western Suburbs. With Matt's Skip Bins, no waste situation is too big or small!
Visit our website to book your hire, or for any enquiries, give our staff a friendly call on 02 4708 2927.