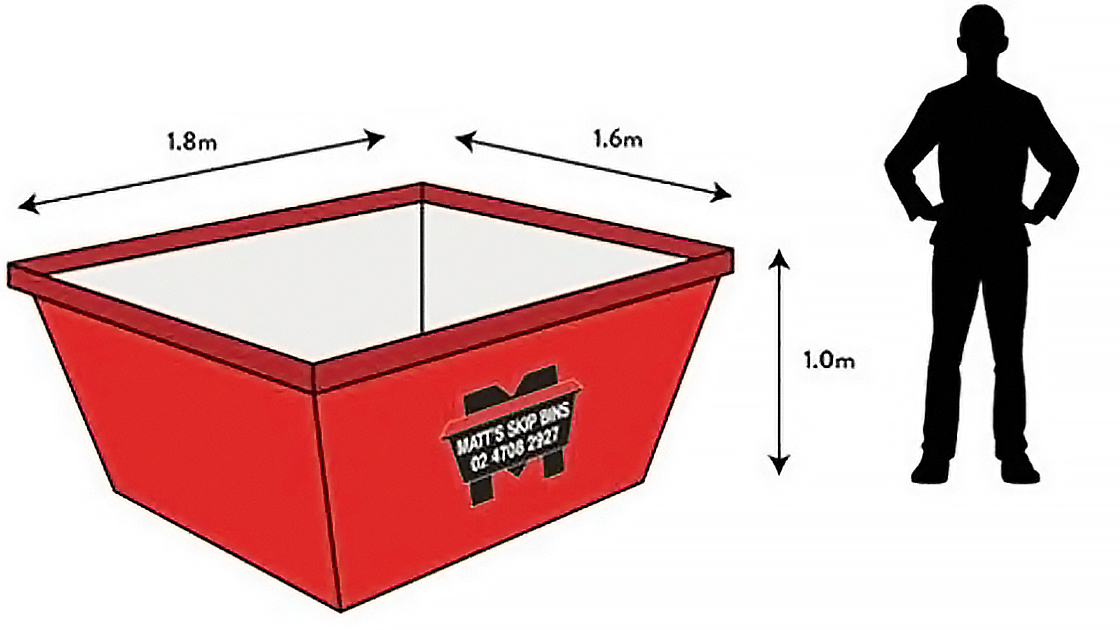 06 Sep •

2

min Read
As the littlest member of our collection, our 2 cubic metre skip bin is a small yet sturdy waste solution. Although it's the smallest of our skip bin sizes, it provides a surprising amount of space for your waste.
Ideal for small waste situations, it is a great go-to solution if you need something more extensive than the council bin but not as big as our larger skips.
Are you looking to hire a 2m skip? Here's what you need to know.
Dimensions of the 2m skip bin
The 2m skip bin is as little as it gets! The dimensions for this bin are as follows:
Volume: 2 cubic metres
Length: 1.8 metres
Width: 1.6 metres
Height: 1.0 metres
The 2 cubic metre bin fits in roughly two standard car trailer loads. This equals up to three tonnes of heavy materials.

The waste types a 2m skip bin is available in
The best part about the 2m skip bin is that it is available in all waste types! While some skip bin sizes are exclusive to a few waste types, our 2m skip is small enough that it can carry any waste without exceeding any weight limits.
This makes the 2m skip bin incredibly flexible and available for many waste reasons. Covering the majority of waste types, this bin size is considered convenient and handy.
The 2-metre bin is available to hire for:
General waste
Mixed building
Bricks & concrete
Dirt & clay
Green waste
Please note that some materials cannot be wasted in our skip bin. This includes paints, liquids, chemicals and other hazardous substances. Some items, such as car tyres and tree trunks, also incur an additional charge.
Situations the 2m skip bin is suited for
Are you interested in hiring this skip bin size? The 2-metre bin is a fantastic solution for small-scale waste situations.
Situations that fit this skip size include small green waste scenarios such as a quick freshen up of your gardens or shrub and plant removal. Small household or office clean-ups would also fit this waste type, as well as vacant property tidy-ups. Not to mention, it is the perfect size if you are looking to get rid of a couple of old pieces of furniture or appliances.
As for construction, this would suit the smallest renovations, such as laundry and ensuite renos. It would also be well suited to small office renovations.
Is the 2m skip bin the perfect size for you? Head to our website to book this bin size! Still have doubts? If you're unsure if this is the right skip bin size, head to our website and explore our range of bin sizes.
Covering small, medium and large, Matt's Skip Bins has over 7 bin sizes in our collection. This allows us to provide many clients with our skip bin hire across Western Sydney. No matter your waste predicament, you can find the right amount of space with our team.
---
Visit our website to book your hire, or for any enquiries, give our staff a friendly call on 02 4708 2927.