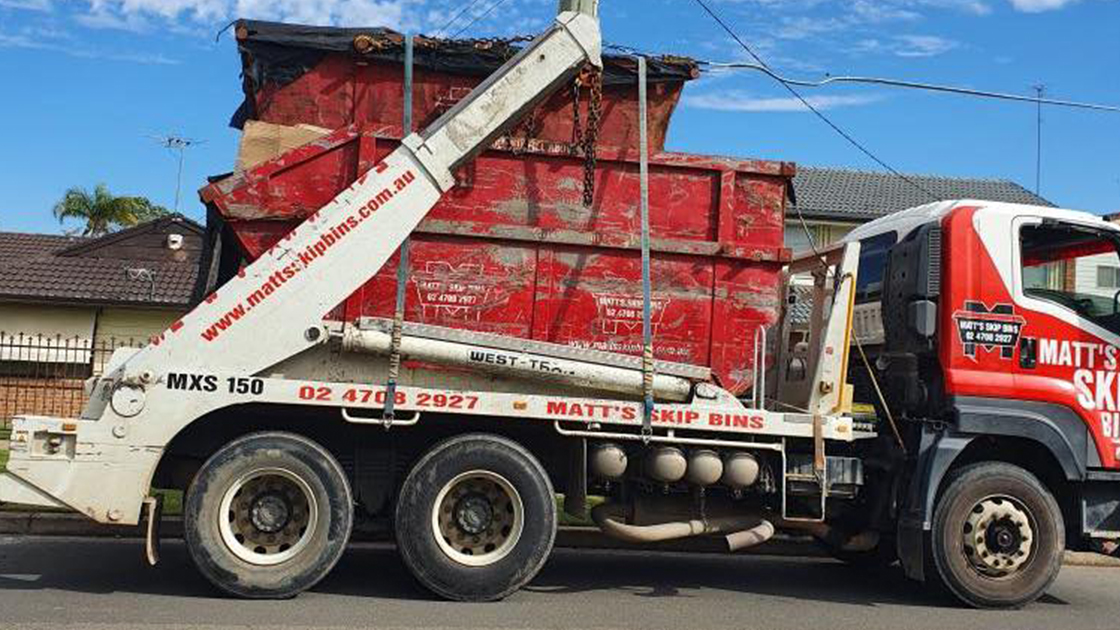 01 Oct •

3

min Read
Are you trying to determine a good pick-up time for your skip bin hire? Or are you expecting your skip bin to be picked up soon?
We often get asked questions from first-time customers who are unsure of the pick-up process. This is totally expected! Matt's Skip Bins team is more than happy to give you the peace of mind you desire to help you prepare for a smooth hire.
Here is everything you need to know when it's time for our team to pick-up your skip bin.
When can you expect your skip bin to be picked-up
Our team will always try to accommodate your needs when it comes to your bin pick-up. We understand certain plans are in place or you need the space cleared by a specific date, so we always strive to cater to your requested pick-up date.
Upon booking your bin, you'll be required to select a pick-up date for your hire. On your bin's delivery day, our driver will also confirm this date. If you find you are finished with your bin earlier than anticipated, you can call us when your skip is ready for collection. Generally, we ask for a days' notice at a minimum.
When given a date, we commit to this to make it happen. If requested, we can even send out an ETA SMS the night before your skip collection to confirm and give you a call once a driver is on the way.
Most of the time, we collect the skip on schedule. But on the rare occasion where something out of our hands happens and we run out of time, we make sure to call the customer to inform them we will get it as soon as possible.

Please note, there is no guarantee of a specific time. Exact times can differ by the hour, especially with our skip bins being across Sydney. To ensure your bin is picked up by the time you need it gone, we recommend planning for the bin to be gone a day prior for peace of mind.
What to prepare for the pick-up
Is your pick-up date closely approaching? It is always good to make sure the area around your skip bin is safe and clear for our trucks to come through.
For a smooth and timely process, we suggest making sure any items in front, above or behind your bin are removed or moved further away. This guarantees an open path to collect your bin. This means no cars or equipment hanging around.
Ideally, our trucks require a 5m height and 2.8 to 3 metres width allowance.
To ensure your pick-up goes without a hitch, it is encouraged to follow our 'do not fill above the rim' line. That means avoiding items from overflowing or stacked over the intended bin capacity. If overflowing, we will have to manoeuvre and possibly leave waste behind to fit our cover on for transportation.
How you will get your paperwork
The great thing about our skip bin hire is that payment is contactless. With the option of paying over the phone or through our online book form, payment and receipts are usually done online.
However, if you do find yourself with physical paperwork copies from our service, no stress. For those who aren't around, we can leave this in a mailbox. Alternatively, we can pass this over to you when picking up your bin.
---
Are you ready to book your bin? With skip bin hire offered across Western Sydney, check out our service areas to see if our waste services are provided to your local area.
Alternatively, if you want to organise the pick-up for your skip bin, you can contact our friendly staff on 02 4708 2927 to allocate your pick-up.