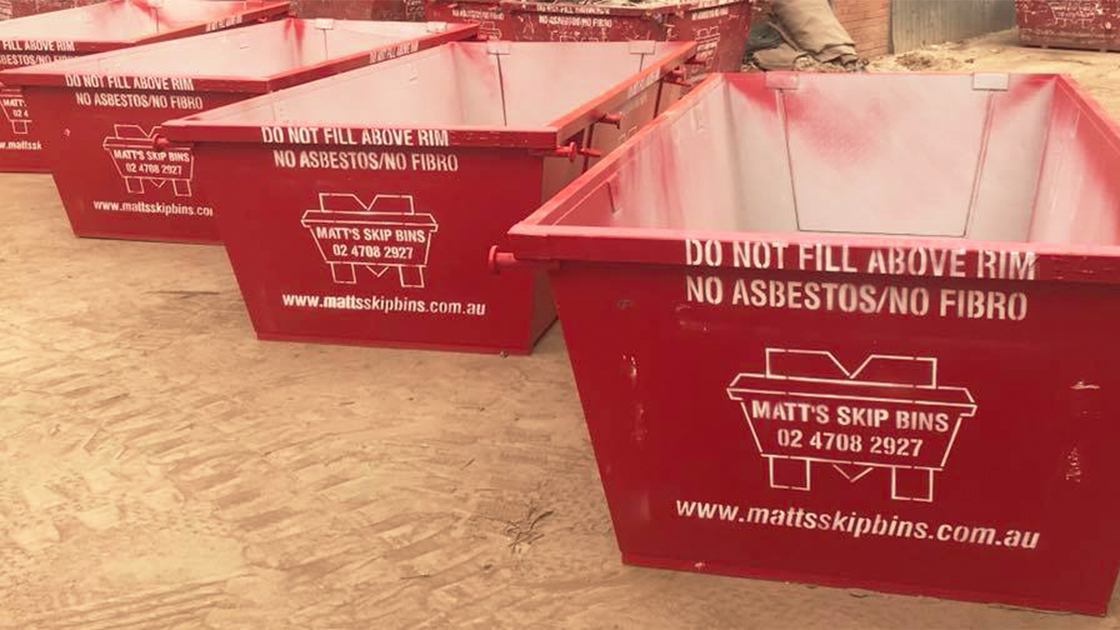 12 Oct •

5

min Read
While many Sydney skip bin hire companies come and go, there is a reason Matt's Skip Bins remains a leader in the waste industry.
Not only do we maintain our high level of service and commitment to quality customer service and recycling, but we also uphold our reliable reputation with our transparent and reasonable skip hires.
When you hire through our team, you will receive an unmatched experience our competitors cannot replicate.
Not sure why we are the company you should rely on? Let us tell you why!
Here is how Matt's Skip Bins delivers a service that differs from the others.
An extensive skip bin collection

One of the biggest reasons we have managed to stick around for so long is the fact we offer one of the largest collections of skip bins. What initially started as a humble 11 skip bins has rapidly grown over time.
With now over 200 skips in our possession, we can offer our customers a wide selection of bins to choose from. This also means we are incredibly flexible and can provide more customers with their desired bin for extended periods if needed.
Catering to all sized projects, our skip bin sizes cover small, medium and large situations. Starting from our smallest size of 2m through to our large 10m bins, we have seven different sizes for our customers to select from. This way you always have more options!
Furthermore, we also provide an assortment of waste types. This allows us to guarantee a bin for the majority of uses and requirements.
With five different waste types, including bricks and concrete, mixed building waste, general waste, dirt and clay and natural green waste, you'll find what you need with Matt's Skip Bins.
Our privately-owned recycling yard
A significant point that sets us apart from other skip bin hire companies in Sydney is that we have our very own recycling yard facility.
Unlike our competitors who mainly take your rubbish straight to external waste facilities, we take your junk back to our internal recycling yard where we individually go through the content before it is sent any further.
When we sort through each skip bin that has been hired, we make sure anything that can be recycled is saved. This minimises any risks of materials not being reused where they can and limiting any contamination that may deter it from going further.
Not only does this allow us to minimise and limit the waste we send to landfill, but it also provides our customers with peace of mind knowing they are hiring a company that is ethical and proactive.
Quality customer service

Other than our impressive collection of skip bins and private recycling yard, we also have our team to thank for our on-going and reliable operation.
We pride ourselves on having a friendly team behind us, helping our customers every step of the way.
From the first point of contact when you order or enquire about a bin straight through to the payment and pick-up organisation, our staff are professional and polite, ready to help and answer any question you may have.
On top of our helpful in-house admin team, our drivers also contribute to our unwavering customer service. Setting high expectations for our customers, our drivers do not disappoint, providing services that are on-time and convenient to the customer.
Across the board, we are a tight-knit team that carries our upstanding reputation throughout our entire service.
Whether you are dealing with our admin team or meeting the driver who is dropping off your skip, you'll identify our cohesive quality attitude is carried through each member you interact with.
Local and reliable skip services

Located in Western Sydney, we provide our services to surrounding areas, allowing us to maintain a punctual and reliable service that is local and responsive.
While big operations may cover numerous large areas in the country, we focus on catering to our local regions that are close and accessible.
By catering to local service areas, we can guarantee a flexible service. Plus, being close allows us to provide faster services.
With Matt's Skip Bins, you'll never have to second guess whether your skip will be arriving or not!
By providing our services to nearby Western Sydney suburbs, we are never too far away. Local areas we service include:
Affordable and competitive skip bin prices

At Matt's Skip Bins, we understand the value of money and want our customers to get a bang for their buck. Unlike our competitors, we want to help our customers get the most out of their money.
By offering our skip bin services at a great price that is affordable and competitive, we stand out among others in the industry.
As a family-run business, we appreciate good value and want to give our customers the same. And the best way to reflect our beliefs is by providing a reasonable price that they can afford.
Not to mention, we are extremely transparent with our services and upfront with our costs. There is nothing worse than being hit with a large fee you did not expect after you have committed to a service!
While other skip bin companies may try and get more money out of you with their hidden costs, our team are reliable and transparent.
In fact, we allow our customers to get an obligation free quote through our online booking form. To help you expect service costs, you can place order details in our form get an instant quote without any commitments.
---
Now you know why we've managed to stabilise a long-term leading position as a skip bin operator in the Western Sydney basin, it is time to order a skip through us!
As a business that differs from our competitors, we are incredibly proud and can't wait to continue upholding our reputation while servicing new and returning customers!
For more information on our skips bins and to hire one, give our friendly team a call on 02 4708 2927. Alternatively, you can skip the call and book your bin directly through our website.