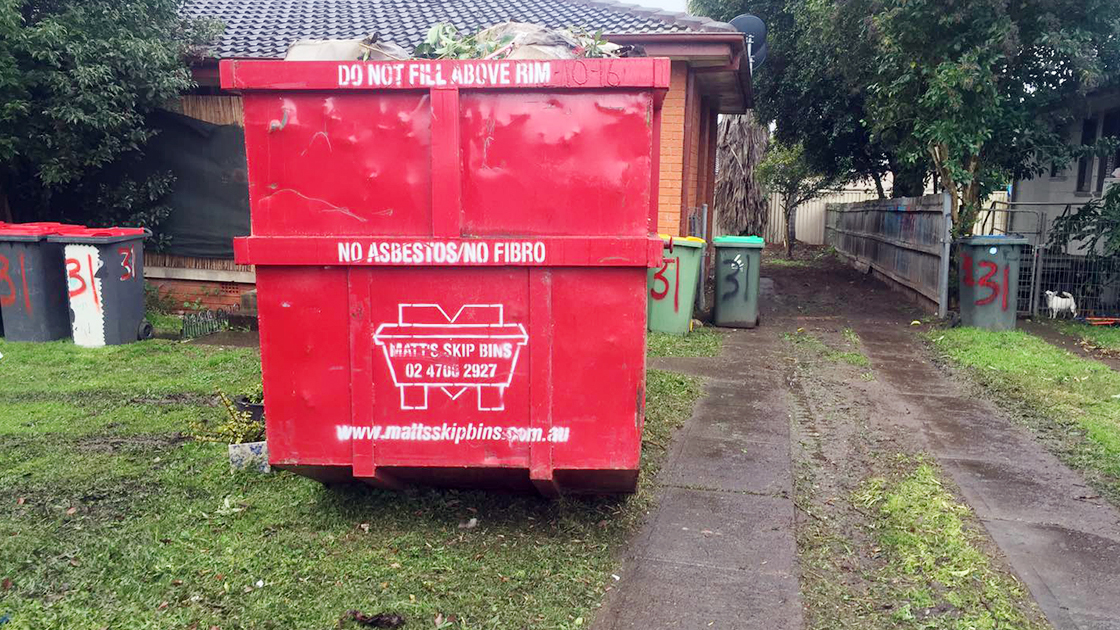 10 May •

3

min Read
Are you looking to hire a skip bin? While skip bins generally are a fantastic waste solution for various situations most of the time, they do sometimes have their restrictions. The most common limits? The acceptance of certain waste materials!
For various reasons, particular objects and materials may not be accepted into a skip bin or maybe exclusive for particular skip bin waste types. This makes it essential you understand what can go in your bin and what cannot.

So, what materials will you often find can be a touchy subject when hiring a skip bin? Take a look below to see if this will affect you!
Food and liquids, oils and chemicals
While general waste skip bins accept most household materials, it doesn't fit just any household waste. Most, if not all, rubbish skip bins will have a zero-acceptance rule for domestic household food scraps and waste, including liquids and nappies.
Even though it is called general waste, you should keep food scraps and unwanted liquids in your curbside bin.
In addition to this, chemicals and oils are also a no-no, which includes paint cans. These can contaminate the bin and the content, making it hard to recycle and give further life. Not to mention, it can be dangerous to our workers and the environment when in the open, so it is best to avoid it altogether.

Asbestos
One of the most complicated materials for any waste solution is asbestos. When inhaled, asbestos can have severe health risks. For this reason, asbestos is not accepted in any of our waste types, even in a construction skip, as it can contaminate other items and be dangerous to expose in the open. This is the main reason it is a touchy item to bring up when hiring a skip bin.
However, we know you can't avoid asbestos in some situations and need it removed safely and correctly. Some particular protocols and procedures must be followed for asbestos removal, including the proper clothing and breathing apparatus. If you find yourself with asbestos waste, please call us for more information and further directions.
Fire extinguishers and gas bottles
From time to time, you may find yourself with a fire extinguisher or gas bottle that is empty or no longer needed. While our bins are the perfect place to discard items that are no longer warranted to keep, these items are unfortunately not welcomed.
Gas bottles and fire extinguishers are hazardous waste that contains radioactive material. These can cause fires at waste facilities or in our bins, making them a dangerous object to have lying around. This is why they are not accepted in your regular curbside bins or our skip bins.
If you have an empty bottle or fire extinguisher, it is best to take it to a Community Recycling Centre (CRC) or check out your next local Chemical Clean-out.
---
Still unsure if a particular item you have is allowed in our bins or not? Check out our waste types page for a detailed guide on what is and isn't accepted in each waste type. Furthermore, if you are still unsure, give us a call on 02 4708 2927.
For further information on the skip bins offered at Matt's Skip Bins or to make a booking with us, head to our website.