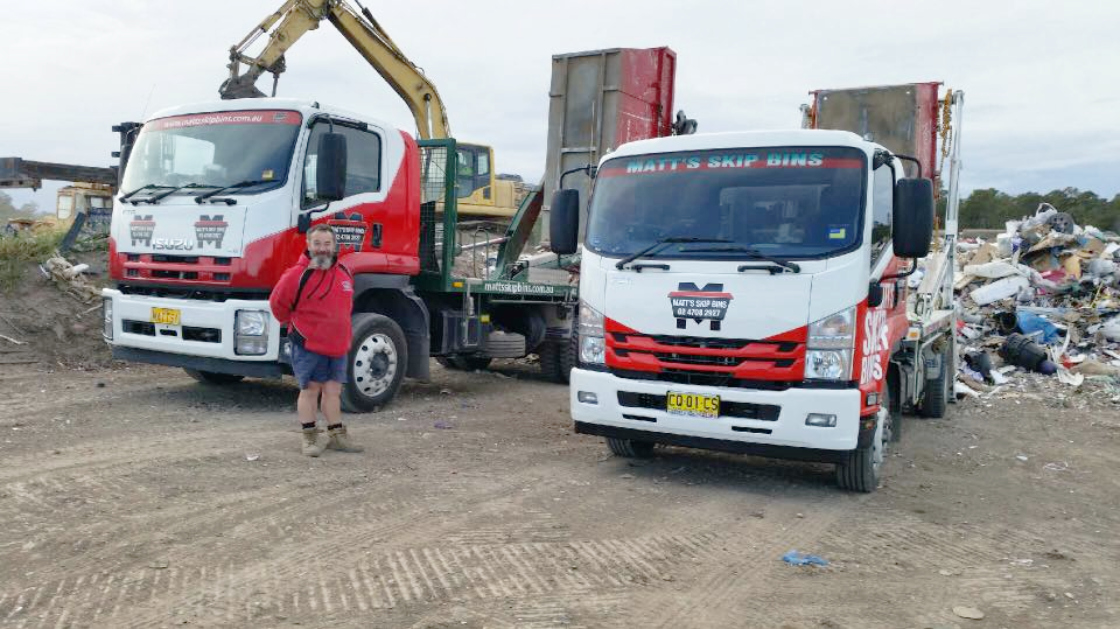 06 Feb •

4

min Read
When it comes to ordering a skip bin in Sydney, you'll want to hire from a company that is reliable, friendly and comes through for you every single time.
At Matt's Skip Bins, this is exactly what we strive to be!
With a team full of hardworking members, we aim to provide all our customers with a service that delivers them a stress-free waste solution.
Not sure why we are the company for you? To chuck out any doubt you may have, let us show you why we believe we can help you with all your skip needs!
Our customer service
When it comes to our work, our customer service is something we are extremely proud of.
As a tight-knit, family-owned company, we know exactly what our customers would want when hiring a service, working hard to deliver and exceed any expectations they may have.
With an effective process emplaced, we ensure our customers are served with timely and professional service.
From doing our best to accommodate delivery time requests to getting the bin in the most convenient spot for the customer, we believe everything contributes to an overall positive experience.
We promote a friendly manner across the board, starting from the first point of interaction with our helpful staff at admin all the way through to the driver you encounter on the day your bin is picked up.
A great example of our consistent customer service is when one of our drivers lowered the skip door for our client upon delivery.
This really proves that the little things go a long way when it comes to overall customer satisfaction.

Our dedication and values
We love what we do – and this is shown through our dedication and values.
With a passion for doing our part in the environment, we revolve our processes around our commitment to reduce landfill by recycling.
This is further proven through our in-house recycling yard.
After every skip collection, your rubbish is transported back to our yard, where we rummage through and recycle as much as we can.
Therefore, we actively promote our various waste types, as it makes it easier to go through and ensure all materials go to the right facilities.
Another value we hold close is our reputation of being an honest and reliable skip bin hire company in Sydney.
By being open and active on social media with our customers, we ensure that we are not only transparent with our practices but also knowledgeable in our service.
That is why we welcome any enquiries about our services! We have nothing to hide and want to help you get the most out of your skip hire.
Further providing our dedication to our customers, we work through many holiday periods, with generally only the public holidays off (we all need a break sometimes!).
This means that during the busy holiday periods, we offer our services where many of our competitors may not be operating, giving you quality service all year round.

Our collection of skips
At Matt's Skip Bins, we offer a large selection of skip bin sizes to choose from. Whether you have a large commercial project or a small residential job, we have a variety of skip bins to suit your waste situation.
Currently, we own over 170 bins which vary in sizes and waste types.
Starting off with a humble 11 skips, we are proud to have reached a point where we are fortunate enough to have such a large collection of bins. By stocking as many skips as we do, we can service more customers simultaneously.
Not to mention – we also offer five different waste types, allowing us to cater to not just more bookings, but also provide more tailored services depending on the bin type you need.
From backyard and worksite waste types to furniture and other general items, our bins cover the majority of materials, making it hard to find a situation we couldn't cater to.

---
Ready to hire a skip bin from Matt's Skip Bins?  From a wide selection of sizes to a range of precise waste types, we have the perfect bin for you.
Whether you're looking for a skip bin hire in Campbelltown or in need of a skip in the Blue Mountains, we have all of Western Sydney covered!
Go ahead and book a skip bin online or give our friendly staff a call on 02 4708 2927 for any enquiries or bookings.