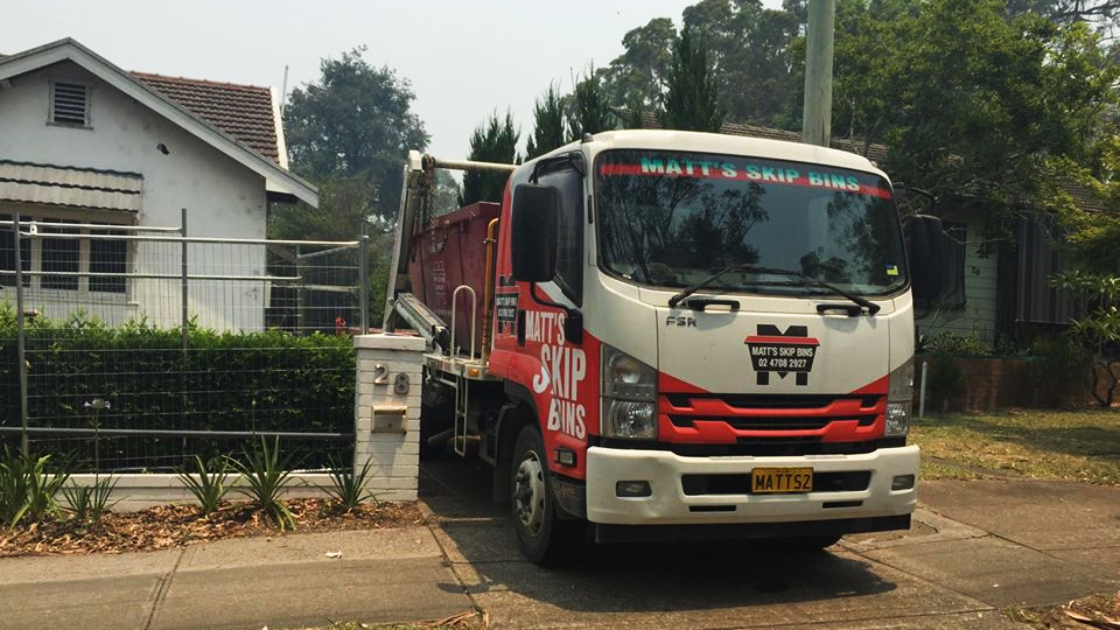 21 May •

5

min Read
Are you expecting a skip bin? You may have already planned what you are putting in the bin, but have you thought about where you are placing the skip itself?
The location of your skip can have a considerable impact on your skip bin hire. You want it in an area that is convenient for your project, so you don't have to go too far. Furthermore, it should be a realistic spot that can be reached by our team.
To see what you should consider when figuring out your skip bin placement, keep reading below.
Ensure there is truck access
One of the essential aspects you should consider is, can we actually drop the bin off in this spot? There is no use selecting a place if it is one we can't reach!
But in saying that, you should also know that our drivers at Matt's Skip Bins are committed to reaching even the toughest of spots, including properties with designated skip areas surrounded by bushes.

Through calculation and tactics, we can use our truck with the furthest reach to drop your skip in tricky locations. As long as there is truck accessibility close by – even if it is a dirt path. We still need the power and machinery of the truck to pick it up and drop it off!
An excellent way to ensure there is truck access is by seeing if there is a clear path wide enough for a truck, even if it is for our smallest size with a 2m skip bin. A 3 metres width and around 5 metres height will allow the trucks arm to drop and collect the bin without any issues.
From dirt roads to pebble driveways, as long as there is clear access and room from the road to the desired area, we should be fine!

Inspect the ground
Yes – looking at the ground is also an important factor! We aren't crazy – there are a few reasons you should be inspecting the ground with concern to your skip bin hire.
The first point relates to truck access. As well as looking for a clear pathway, you should ensure the ground getting to your skip drop-off location is reasonably flat so our truck can realistically reach it.
A slight incline or winding driveway is fine, just as long as there isn't a steep cliff you are expecting us to magically climb over!

The second point refers to the type of terrain and environment you are placing your bin in. If your skip is to be placed on a grass or dirt area, you should make sure it is stable ground.
This means, if you don't want to ruin your well-kept lawn with a skip-shaped indent, consider putting planks of wood underneath the ends to keep the bin above ground, reducing the imprint left afterwards.
Observe overhead space
Now that you have looked at the ground, look above! Once more, there is a method to our madness. By looking in the overhead space, you can see whether a spot is realistic or not.
It is vital for skip bins not to be placed directly underneath low overhead power lines as this can make it near impossible for our trucks to drop off and pick up the bin without interfering, causing a hazard for all involved.
If power lines are slightly low or to the side of the designated bin spot but not impossible to work around, we will be able to manoeuvre around it.

However, it is still preferred, that if possible, you try to avoid any electrical wires that are directly above the skip.
It is also essential to check the environment and see if there are any obstructions above that may stop us from doing our job. This could include low hanging trees that can simply not be worked around or any roofing and covers that would be impossible for our skip loaders to work under.
While these obstructions should be certainly observed, keep in mind that our drivers aren't ones to back down from a challenge. And if it isn't impossible, we will work our way around and do the best we can to make sure your request is met while maintaining safety guidelines.

Consider where your waste is coming from
This is more for your convenience, so you can have a bin placed in the best location for your project. Consider where the majority, if not all, of you waste is coming from. Are you cleaning a room to the front of the house or are you strictly gutting out the backyard?
If you are doing work only in the backyard, your best bet is to have the bin as close to the yard as possible. We know that with a 10 or 9 cubic metre skip bin, this isn't always possible, but it is good to try the best you can. Whether it be near the side gate or even in the backyard itself, you don't want to be making trips too long back and forth.
Same goes for renovations. For example, if you are conducting a renovation at the front of your house, it would make more sense to have your skip bin in the front yard. If it were instead in the back yard or on the opposite side of the property, the distance would be more of a challenge.

This is also important to note if you live on property. It would be a pain to have a skip bin placed in the front paddock, yards from the waste-producing site. You will need to pack a vehicle or wagon to get the waste to the bin!
Take our advice: don't make the trip too complicated. Make the location as simple as possible for you and any workers you may have helping.
---
Have you checked everything that is listed above? If you have found the perfect place for your skip bin, just let us know and we can get it sorted for you! Order your skip bin online today and leave us a note if there are any potential hazards or instructions we should know about. Or if you have already booked a skip, get in touch with us to let us know beforehand!
With plenty of skip bin sizes and waste types to choose from, we are sure to have the right skip for you! For any enquiries, feel free to give us a call on 02 4708 2927.