25 Nov •

2

min Read

Things to consider before demolishing your home
Demolishing your home may seem daunting at the beginning. But armed with professional advice and the right builder, it can be an exciting start towards your brand new home. You may even be surprised to learn that, often, the cost of demolishing and building a brand new home is comparable, if not less expensive, than undertaking extensive renovations. Before you get ready to tear down those walls, there are a few things that you should consider.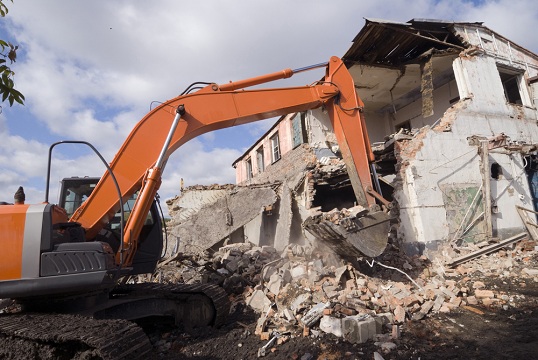 Before The Demolition
Partial Or Full Demolition?
Demolition doesn't have to involve knocking down an entire house. In some cases, homeowners will choose to only demolish part of an existing structure, or to leave up a particular wall or facade. This may occur because they wish to retain some of the original charm or character of the building, or to only improve a certain section of the property they are unhappy with.
Demolition Permits
The demolition company you have chosen should be willing to deal with your local council for you, in order to obtain the required demolition permits. A demolition permit, also referred to as a 'building permit' must be obtained from your local council prior to any demolition work taking place. Some relevant paperwork will be required, such as the land title and site plan. Be aware that obtaining a permit for your demolition, can take up to 15 working days once all the relevant documents have been submitted
Warn The Neighbors
Talk to your neighbors before demolition work is started, so they are aware of when it is occurring and can take steps to minimize mess in their home. Demolition can be a dusty, dirty process so they should have ways of managing the dust that is created so that your neighbors aren't annoyed.
Tree Removal
If you have a giant tree that is blocking the path of the new build or other means of vegetation, organize to have them removed before the demolition. This will make the demolition site easier to access and work with when the time comes.
Be Clear What Is Staying Or Going
Demolishing a home does not mean you have to completely clear the block. You may have a pool that needs to stay, a favorite tree, a shed or other outbuilding you'd like to keep. By making this clear from the start, you ensure no unfortunate events occur during the demolition. It can also ensure that contractor quotes are comparable and have a well-defined scope of the works required.
Hire a Skip Bin For Waste and Recycling
Many items and materials can be reused or recycled from a home demolition. Organize a skip (or multiple) to divide materials such as bricks, concrete and tiles to be taken from the site and recycled.
Need to a hire a skip bin for your demolition site in Sydney? Check out our bin sizes and book a bin online. If you have any inquiries, please call us on 02 4708 2927.