14 Apr •

2

min Read

Things that end up in skip bins during Sydney renovations
Figures from the Australian Bureau of Statistics show that Sydney homeowners spent close to $80 million on renovations last year alone. With so many renovations taking place around the city, there's also a lot of waste being produced and the best rubbish removal solution for a renovation site is through skip bin hire. But exactly what ends up in skip bins during Sydney renovations?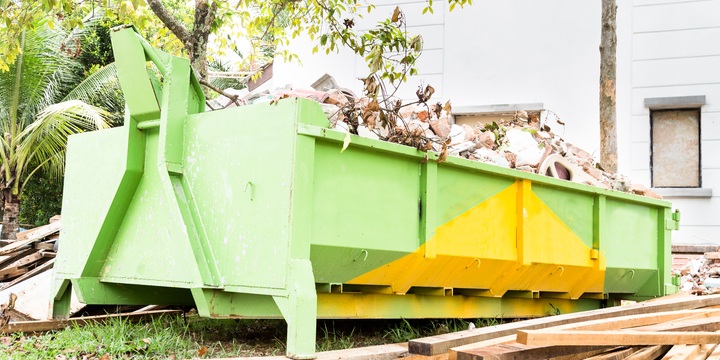 Waste Types In Skip Bins
Green Waste
Many renovations require the removal of trees or other plants and shrubs. This may be necessary if your renovation involves extending an existing building, or even just to improve access to the building site. Skip bins are an ideal solution to the problems of piles of green waste. You can choose to use a small bin for small gardens having a light trim or a large bin for a large garden cutback or site clearing.
General Waste
Renovations often require a declutter. If you're clearing out a full garage or a shed, cleaning out one room or even a whole house, multi skip bins can help you organise which of your old belongings are going where. A general waste skip will take most general household waste, including cardboard, clothes, toys, furniture, plastic, metal, light timber and appliances. With different sizes of skips available, you can opt for a smaller sized skip to cart away excess roof tiles, pavers and floor tiles.
Builders Debris
Skip bins help to keep a renovation site safe and clear from builder's materials and debris. Hiring one skip for bricks and another for timber keeps these products separate and ready to sort for recycling or reuse on a site elsewhere. Wastes might include concrete or bricks from a patio, which you are replacing or simply removing entirely. You might be replacing mouldy or damaged plasterboard, fibrocement or asbestos. You should start a list of the wastes you will be getting rid of so when speaking to skip bin suppliers you remember all of the types of things you will be putting in it.
Dirt and Clay
Renovation will often involve some degree of dig or excavation. There's no need to leave excess dirt and clay lying around your site when you can hire a skip bin to specifically take care of these materials. You will need to make sure that no grass or contaminants are mixed in with the dirt or clay, however, as disposal facilities are very strict with enforcing that only dirt and clay are allowed in these bins.
Toxic Chemicals
If you're using toxic chemicals during your renovation or need to remove them from an existing structure, refrain from mixing chemicals when disposing of them. Doing so can create a flammable Biohazard that harms you and the environment. By encouraging the use of skip bins on work sites, the waste is disposed of safely and the health of the environment is not compromised.
Hire a skip bin online today and keep your home tidy during renos
If you're renovating in Sydney, check out our bin sizes and book a bin online. If you have any inquiries, please call us on 02 4708 2927.