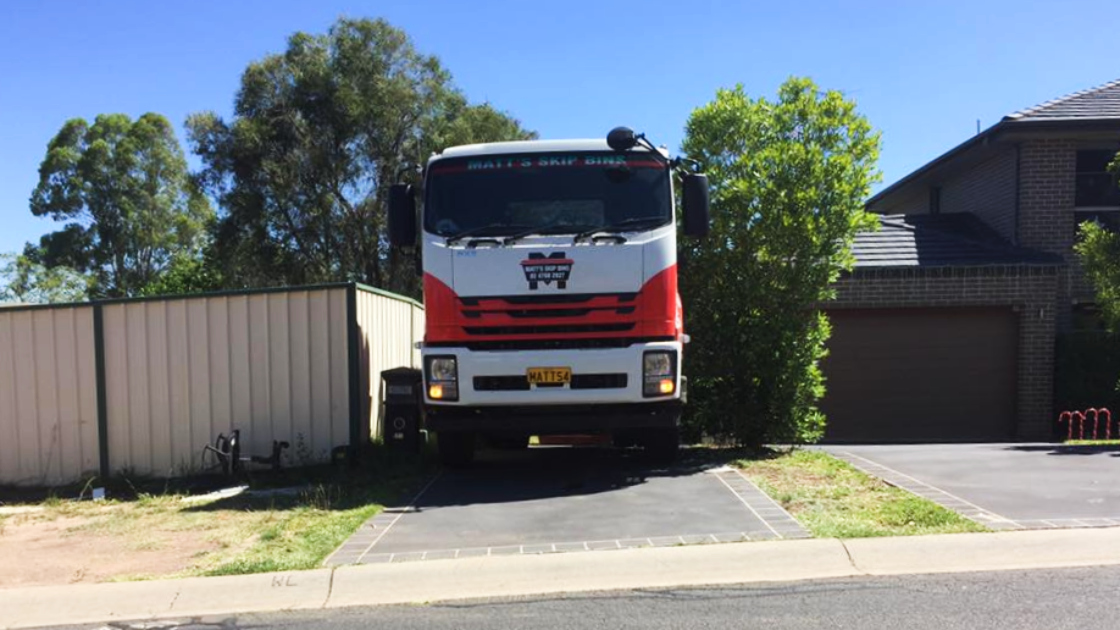 20 Feb •

5

min Read
As we head further into 2020, it is now the perfect time to reflect on some of our jobs in 2019.
Providing skips to customers day in and day out, and even working through the majority of the holiday periods­, lots of bins have been delivered over the last year.
Offering skip bin hire across several areas in Sydney, delivery locations can get a little interesting.
Looking back at some of our notable and skilled deliveries, courtesy of our experienced drivers, we have listed a few our trickiest deliveries from 2019 in the list below:
Squeezing it in
When it comes to delivering skip bins, squeezing our trucks through tight areas is one of the most common and trickiest situations we encounter.
Whether it be between cars or between fences, our drivers will use their skill and determination to squeeze in our trucks in some way!
A great example of this would be a tight squeeze we made early in the year.
In April, we delivered a 2m skip bin to a customer in Leura. And not only did they live up a battleaxe driveway – they also had a tight gate guarding the front of the property!
Luckily, this was still no match for our team who successfully made it through the slim-gated entry. Not to mention successfully dropping off the skip while in reverse!

How about squeezing in between buildings?
One of our skilled drivers saved the day in 2019 by successfully delivering a skip bin in a tight complex of townhouses!
Back in July, we delivered a skip bin down a narrow townhouse property in St Marys. Given little space between the dwelling and the perimeter fence, our team was able to back in, skilfully positioning and delivering the bin exactly where the customer requested – without any issues!
Another time our drivers proved to be experts in deliveries was during this skip drop-off in November.
This designated bin spot was easily located on the edge of the property beside the road, making it sound like an easy spot.
WRONG! The customer wanted the bin directly next to a low-hanging tree, which made it more difficult to complete the drop-off.
With the assistance of the customer and some handy tree trimmers, this job was made possible!
Getting out of the truck slowly and lowering the bin in intervals while strategically adjusting the tree branches, this is a great example of our driver's outstanding customer service.
Good job, Gary!
Dodging lines above
One thing many people don't consider is the environment around them.
A less obvious but a highly important factor is that, powerlines can be a hassle when delivering skip bins. It is tremendously important not to touch or interfere with electrical wires.
That's why when they hang low to the ground, it can certainly create a challenge for all services alike.
When it comes to these situations, our drivers are extremely cautious. We strategically manoeuvre our way around low-hanging lines, always looking up to ensure our deliveries and pick-ups aren't colliding with any of these.
Looking back at this delivery from November, it is clear to see the importance of noting environmental factors around each delivery.
If we weren't so careful, the arms of our skip loader would have easily hit the powerlines!

We had the same issue at this Blue Mountains drop-off from earlier in September!
It wasn't just a close hanging powerline we had to look out for when dropping a 6m skip bin off – the car on the side also made the job a little harder!
Luckily, driver Danny is exceptionally skilled in his work, managing to use the little space given to successfully give the customer their requested skip bin.

Reaching steep and rough terrain locations
Delivering all around Western Sydney, we often come across suburbs that are a little trickier than others.
Whether it is an area full of hills and steep driveways or a suburb in the mountains full of bush, not all locations are a walk in the park to get into.
However, our dedicated team are experts in manoeuvring around situations that prove to be a challenge. They always find a way to reach their destination and drop off the ordered skip.
Take this delivery we made in September for example.
Going off-road onto a dirt driveway surrounded by bushy terrain, we were able to reach a tight spot that had been a convenient loading point for our customer.

Another time our navigation skills came into play last year was during this skip drop-off in Blaxland. A slippery surface only added to the steep winding driveway. Yet, it was no match for our driver!
Cautiously, the truck was driven, and the bin was carefully plotted at the bottom of the property at the convenience of the customer.
It goes to show that when you hire Matt's Skip Bins, our team puts in the effort, having no job too big or small.

And last but not least, check out this skip bin drop-off from March last year.
It may not have been in a bushy suburb, but a lot of our deliveries come across situations like this – a hilly suburban driveway.
From the Hills to other areas scattered across Western Sydney, sloped driveways can be deceiving and can pop-up in many instances.
Take this driveway in Pendle Hill for example.
From the street, it looks misleading, because you would have no idea this slope would have our truck kissing the road!
Luckily, our driver Danny knew the power of our trucks and collected the skip despite the close pavement encounter.

---
As you can see, 2019 was a fantastic year for the team at Matt's Skip Bins, filled with plenty of interesting situations.
We expect plenty more tricky situations in the future, and we can't wait to see what 2020 holds!
If you are looking for a skip bin, whether big or small, Matt's Skip Bins is here to help you!
To book your skip, we suggest you look at our skip bins online, using our booking form to order your bin. Alternatively, you can give our friendly staff a call for any enquiries or bookings.