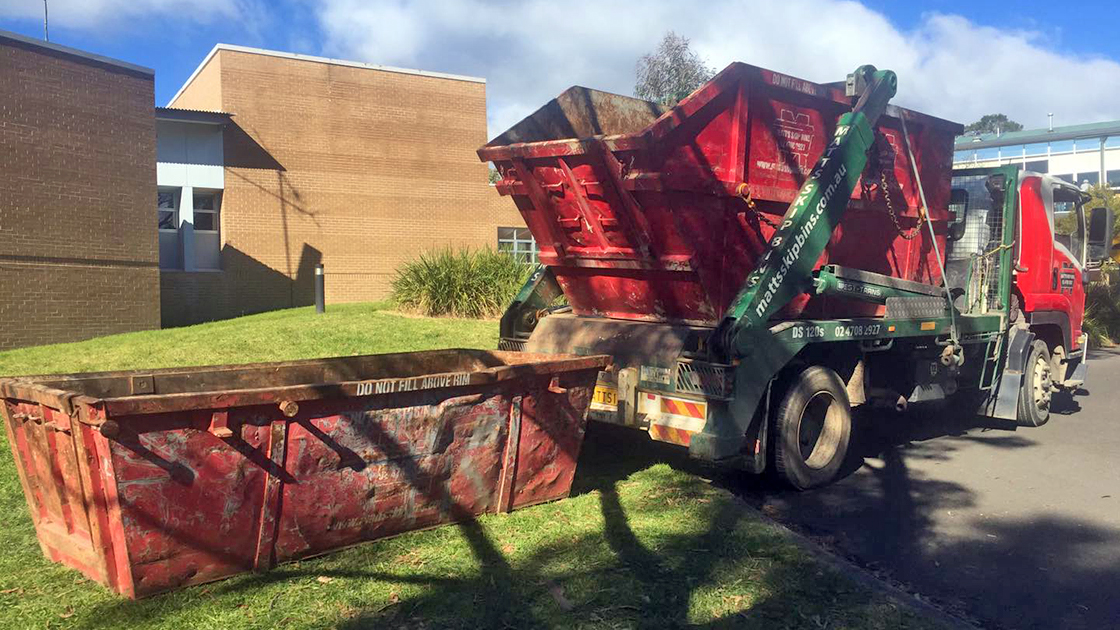 22 Nov •

3

min Read
Are you planning a knockdown rebuild? Or maybe you're purely developing a site by knocking down the existing structure? No matter the intention behind your demolition, these situations can get messy.
Imagine all the building materials spread across the ground as one big pile of debris. It'll be a mountain of rubble that looks like a headache to contain. You'll require a solid waste solution to clear out the old waste and make room for the new plans! Not to mention the added stress of wasting any dirt and rocks you need to be moved in addition to this to make space for future development.
That's where skip bins come into play. Did you know an extensive range of skip bins is available to help you clear demolition sites? Keep reading to explore your options.
Bricks and concrete
When knocking down an existing building, chances are you'll end up with a lot of bricks and concrete debris from the original build. The best way to dispose of this is with a brick and concrete bin.
A bin dedicated to bricks and concrete caters to large amounts of this material. It also accepts similar materials, such as:
Roof/floor tiles and slate
Rocks, pebbles, bush rock and red scoria rock
Besser blocks and pavers
This makes it fitting for demolished projects for houses, factories, unit complexes, offices and more. This bin is best used at the point of demolition.
If the bricks and concrete bin are unavailable, this content would also go in a mixed building waste bin.

Dirt and clay
Apart from the knocking down of the existing build, dirt and clay are usually required to be removed from demolition sites. You may need some earthworks or a simple way to remove excess dirt and make way for future builds.
Specifically catering to dirt and clay, we offer a dirt and clay waste type. This skip is a handy way to waste large volumes of soil and clay and avoid any piles accumulating on your worksite. After being separated from mixed building waste, these materials should be disposed of alone in this bin.
It is best to have this bin on-site once the primary demolition has occurred. This is when the majority of dirt and clay removal would occur.
Mixed building waste
Perfect as your go-to waste solution, this waste type is an all-rounder. While other bin waste types cater to specific materials, this option caters to the many generic materials you will often need to waste on a demolition site.
A mixed building waste skip is the best way to remove waste from your demolition site. This bin is the most effective waste disposal solution as a wide range of materials can go in it. This waste type accepts:
Mixed concrete and bricks
Dirt
Tiles
Timber
Gyprock
Plastic and metals
This waste type is available to hire as a 10 cubic metre skip bin, guaranteeing a large waste solution for the most extensive of demolishment.

General waste
In addition to a construction skip, you may also find you require a general waste bin. Our general waste bin is perfect for the non-construction materials found on your site. This could include old furniture and textiles lying around.
A general waste skip accepts:
Kid's toys
Furniture
Clothes
Appliances
Cardboard
Metals and plastics
It is handy to order this bin before the demolition occurs. Having the general waste bin on-site can clean the building properly before it is knocked over.
---
Planning to demolish a property? If you have questions about what bin you need, contact our friendly staff. We can guide you to the right bins you need for your project.
Furthermore, you can hire the skip bins you need by heading to our website and using our online booking form. Fully secure, this provides you with a quick and easy way to hire skip bins in Sydney.