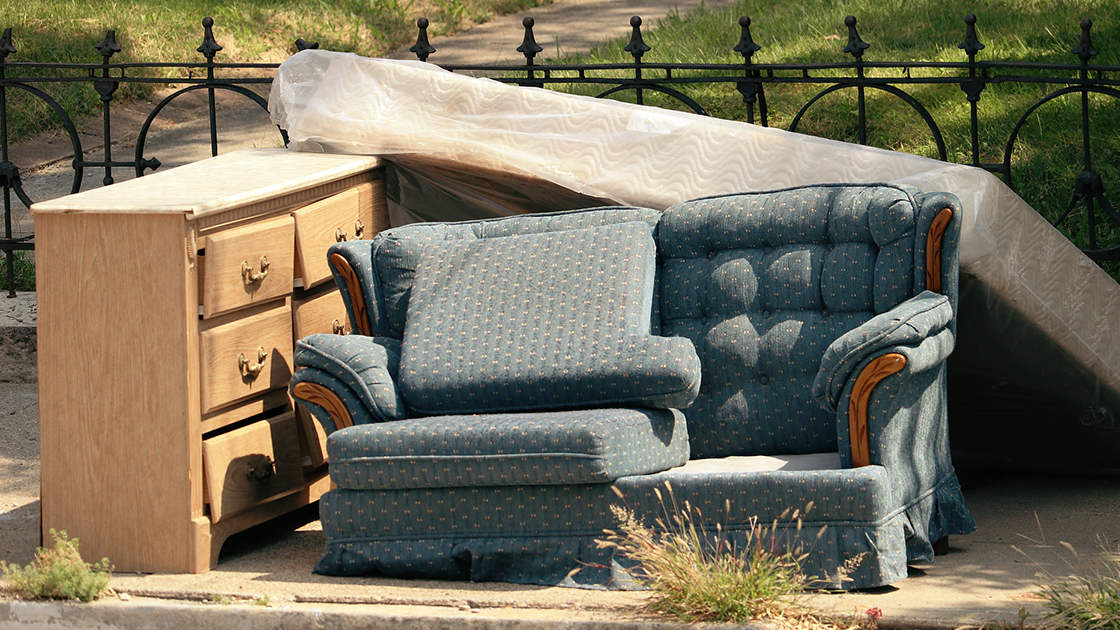 05 Feb •

3

min Read
At Matt's Skip Bins, we often discuss what can be saved instead of chucked when it comes to your waste. While we love taking your waste and sorting it out in an ethical manner, it's even better when we hear people are limiting their waste by saving it instead!
As part of our commitment to doing our part to help the environment and reduce landfill, we are all for saving items. 
Not only does it help the environmentally friendly initiative for recycling but also helps save you money! 
For savvy inspiration, keep reading to see what your waste can do for you.
Reusing old pieces of furniture
Furniture — it is usually expansive with a limited lifespan. If it isn't outgrown or broken, it is usually no longer in style and can hurt your wallet if you choose to replace it. 
But what if we told you, you didn't have to replace and throw out that piece of furniture that no longer suits your home?
For those who are crafty, we recommend restoring your furniture! You'd be shocked how much an object can change with a few simple tweaks and some fresh paint. 
Using tools, paint and maybe some new materials or textiles can alter furniture completely. It's a more budget-friendly alternative than buying new and expensive pieces.
So instead of chucking out that old side table, sand it back and get working! It may cost a little to give it a fix and fresh look, but you'll undoubtedly save more in the long run and get to appreciate your work.
For those who don't have the time or patience to work on a project like this, you can splurge a little and hire someone to refurbish your old furniture! 
With skilled furniture refurbishing services out and about, you can pay someone to do it for you instead. You can still save your money compared to buying something brand new.
Leftover construction waste
Just because you've finished using construction materials for its initial purpose doesn't mean you need to dispose of it immediately! Like the materials often placed in a green waste skip bin, you'd be surprised what construction waste can do.
These items can offer you and your property a couple more uses even after their intended function. Unused items can be taken apart from their fixture and be used for other purposes. 
For example, if you've knocked down a wall and have good condition bricks left over, you can reuse these for a new built-in BBQ feature in the backyard or perhaps edging for the garden.
Are you left with brand-new wood remaining from your pergola project? Don't waste and chuck it right away — keep it for that shelving purposes in your garage!

Giving old clothes a new purpose
Clothes – an everyday necessity you need but continue to outgrow. 
The amount of clothes we go through in our lives is crazy. Especially at our younger stages and we know parents can certainly agree to this. From changing trends to general growing up, clothes will always need to be wasted or replaced.
But did you know there are alternatives to chucking out your clothes? The most encouraged solution is to send the decent quality pieces of clothing in a clothing donation bin. This way, you can provide those in need with the clothes they require.
Is the condition of the clothing not good enough for donation? You could always repurpose the material. Your standard cotton shirts are the perfect example. By cutting up into pieces, you can use these textiles as rags for car washing or cleaning purposes.
Have a piece of clothing you can't wear but also can't bring yourself to chuck out? Get creative and turn it into a household item. A bit of sewing can help you save the material in a more useful manner from blankets to cushion covers. 
Worst case, you can always chuck it into our general waste bin for us to take care of!
---
With a bit of creativity and thought, you can save money and stop items from being easily thrown away without much thought.
Don't have anything you can reuse materials for? No stress! Just make sure you put it in a skip bin from Matt's Skip Bins! 
With our own recycling yard, we personally go through and save as much as we can. This way you shouldn't feel any guilt about chucking out items you can't keep!
Supplying an array of skip bin sizes, you can be sure to find a reliable waste solution with us. Visit our website to learn more or give us a call on 02 4708 2927.