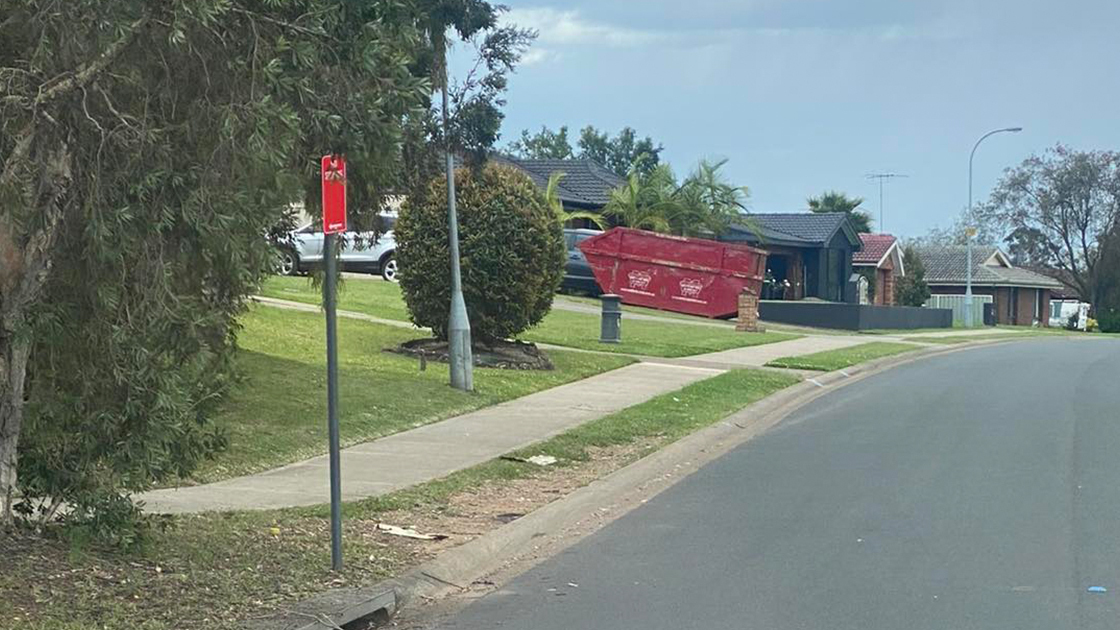 03 Aug •

2

min Read
The best part about working in the skip bin industry is that every day is different! Occasionally, we encounter some challenging or whacky situations with our skip bins.
While skip bin hire is generally straightforward, sometimes guidelines aren't followed. This results in our team uncovering some serious skip bin fails when out on the road! Although these mishaps are usually quickly sorted, it is still important to stick to the hire rules so you don't find yourself with your own fail.
Check out our list below to see some of the skip bin fails we've witnessed.
Moved bins
Doh'! Moving our skip bins from the original drop-off is never a good idea. Once it is delivered, we ask customers to leave the bin where it is. It isn't worth the risk of damaging your property!
Moving the skip makes our job harder and puts your property at risk trying to collect the bin. As we deliver the bin, we pick the location where to place it based on numerous factors. We leave it in the most convenient location, allowing a safe drop-off and pick-up while making it accessible for you during your hire.
If you want to ensure the skip is in a particular area upon drop-off, speak to the driver to see if possible or leave a note when making your order.

Overfilled bins
Something we often come across is overfilled bins. This is a regular skip bin fail! Sometimes, it's just a few items that can be easily restacked to be contained. But there are instances where it can be a mountain of junk, making it hard to restack to fit everything in.
We aren't allowed to transport any containers that are overflowing. We need to securely cover our skip bins when transporting, which overfilled bins make difficult, if not impossible. This makes it essential you order the correct skip bin size.
For example, if you are gambling with the 9m skip, order the 10 cubic metre skip bin. You would rather have too much room than not enough!
Glass on top of the bin
Similar to overfilled bins, placing glass on top of your bin is a big no-no. Yep, we've had a large glass panel covering the bin, exceeding the top rim of the container!
This is incredibly dangerous, not only because it is overflowing the bin, but if smashed or broken, it can be a hazard to all as it isn't secured within the container. It also makes it challenging to try and safely cover.
While your bin needs to be covered, it shouldn't be by glass! Place the glass at the bottom of the skip and let the professionals adequately cover your bin with our authorised tarp.
Next time you order a skip bin, don't end up like these skip bin fails!
If you're looking for quality skip bin hire in Sydney, trust Matt's Skip Bins. With a wide stock of skip bin sizes and waste types, we can guarantee a skip bin for your waste situation.
Head to our website to make a booking or call us on 02 4708 2927.