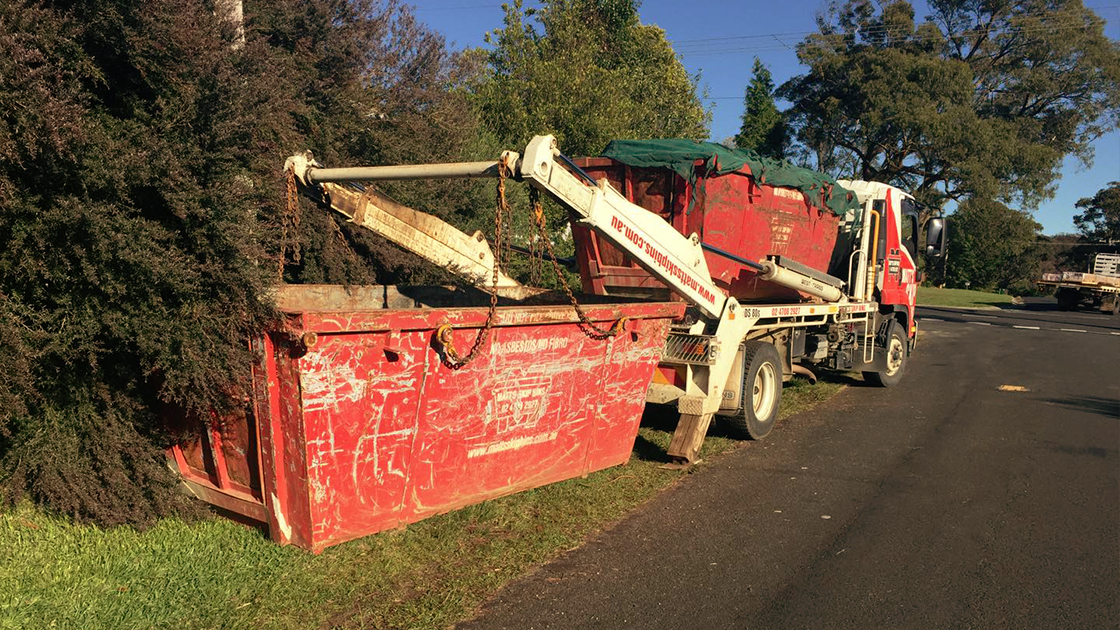 10 Mar •

6

min Read
Are you planning on hiring a skip bin? It doesn't matter if it's for your home or your worksite; no matter where a skip bin is, it is crucial you have safety rules enforced.
Although a skip bin may seem harmless, just like any situation, something can go wrong if you are not cautious. At Matt's Skip Bins, we prioritise our customers' safety and want to guarantee our customers get the most of our bin without any hiccups.
To help you, your employees, family and general neighbours stay safe, read our tips to see what we do to deliver a safe skip bin hire and how you can enjoy yours without any issues.
Keep kids and pets away on skip bin delivery and pick up times
One of the most considerable safety measures you can do is to ensure the area is safe for our trucks to drop-off or pick-up our skip bins.
Vehicles are mighty objects that can be a danger to all, and with trucks as big as ours, you must help our drivers create a safe environment. On delivery or pick-up day, be sure to clear out the vulnerable who may get too close to our trucks in action, including kids or pets.
Our industrial skips are heavy-duty and require a machine to place them carefully down. We understand our trucks and machinery are fascinating to watch, so as long as everybody keeps their distance, no one will get hurt!
On top of this, you must clear out any objects from our path, such as toy sets and council bins. A road with a clear, safe path will help us narrow down on any dangers by focusing on our job in delivering you your skip bin, instead of having to avoid all potential hazards within the vicinity.

Place rubbish into your skip bin with care
When it comes to loading your skip bin, you should be mindful of how you place items into your container for a couple of reasons.
The first reason is you don't want to hurt yourself. Always consider how you pick up, hold and put down the item into your bin. It's important to place and move your waste with care to avoid any unwanted accidents during the process.
To avoid injury and damage such as hurting your back or pulling a muscle, we recommend you safely lift heavy items. This includes squatting down, bending correctly, keeping your back straight and slowly raising the object.
The second reason why you need to be careful when placing waste in your skip is that trying to place items in a crafty manner can lead to dangerous accidents. The wrong arrangement of heavy objects can result in collapses and cause injury.
If waste is too heavy to hold, you should only ever use a stable elevation method. We recommend using a sturdy ramp or using the bin doors for wheelbarrow or equipment access to move the item.
Avoid going over the 'do not fill above rim' warning
Another safety issue that is related to bin stacking is ensuring you don't overfill the bin. Although it may seem tempting, we put the 'do not fill above rim' warning there for a reason!
It is illegal to transport an overfilled bin, and it is a regulation for a reason. An overcrowded skip could be a hazard to people on your site AND on the road. Whilst on your property, if you fill your bin too high, content can become unbalanced, falling over the edges and possibly dropping on those around the area.
If an overfilled bin can cause a safety hazard while still, imagine what it can do in transit on the road!
Transporting properly filled skip bins around Sydney can already be a hectic task, but could you imagine the damage it could do if it were overfilled? The excess waste can stop the tarp from holding the contents in place and fall over. As if our roads need any more challenges.
To avoid any issue with falling content, you must maintain the content in your bin to be a level below the warning line.

Take apart your waste in a safe manner
Many of our customers hire our bins intending to get rid of oversized unit pieces. Items including tables, chairs, desks and cabinets are just some of the large furniture parts that can be pulled about and thrown into our skip bins.
While it is great to see people make use of our skip bins for big items, pulling apart the waste itself can be a risky exercise. Whether it is furniture or materials, crushing rubbish down in an unsafe manner can be dangerous to you and those around the environment.
For example, if you don't properly pull an object apart and opting to roughly use your strength and body weight to reduce its size, you can end up getting injured.
Injuries that can result from this can include cuts, fractured body parts or lacerations. You could also haphazardly cause screws and nails to fly around, becoming a risk to others.
To prevent these incidents, it is essential to avoid using your feet to crash down items. Instead, dismantle the pieces one by one with a tool to properly pull it apart. We also recommend using gloves or other PPE to avoid hurting yourself when manpower is required.
 Keep the area around your skip clear
A general WHS rule that we like to promote with each skip bin hire we deliver in Western Sydney, is maintaining a clean workspace. It doesn't matter if it is in your backyard or in your workplace, to avoid any incidents, it is best to ensure the area around your skip bin is safe, organised and clean.
You'll often have workers or tradesmen going back and forth to your bin, carrying items. This means it is not always possible for them to analyse the ground in between trips.
By having rubbish and tools laying around your skip bin haphazardly, you are asking for trouble! Not only does this cause a trip hazard, but it can also be a potential danger to step on something sharp. You have a skip bin – so use it!
If you have debris around the bin, make sure you chuck rubbish in it. If it is an object or material that isn't accepted in your bin, ensure you put it in your normal waste or keep it away from your skip bin area for the time being. And if it is an item you're using, keep it in a safe spot away from your designated bin area.

Enforce a no-smoking area around the skip bin
As an external factor, fire can be a big hazard if it comes into contact with your skip bin.
It is vital you create a smoke-free zone around your skip bin. As much as possible, restrict smoking within the area of your skip bin and ensure that no BBQs are used nearby (shout out to the tradies who like to enjoy a BBQ before kick-off on a summer afternoon!).
You must keep your bin away from any lit sources or potential fire hazard.
All of these precautions are to avoid possible ignition. Most skip bin content includes flammable materials, whether it be wood and foliage from our green waste skip bin or plastic objects in our general mixed waste bin. Once ignited, your skip could be a raging fire pit, creating an emergency for everyone around – and damaging the bin!
So, remember, keep the fire away by enforcing a no-smoking, no-lighting rule around the skip bin on your site!
---
Follow the tips above and be sensible with your skip bin and you'll have little to worry about!
Looking to hire a skip bin? Come to Matt's Skip Bins! We provide quality hire services you can rely on. Plus, you can find our skip bins online, making the order process easier than ever before.
To order your skip bin, visit our website now. For any enquiries, give our friendly team a call on 02 4708 2927.