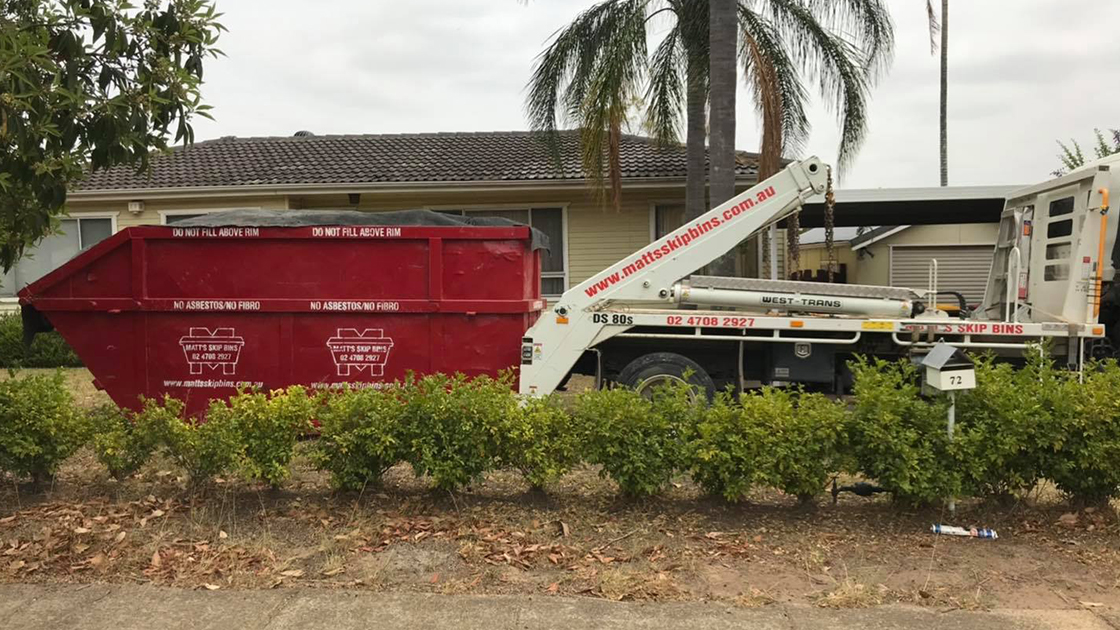 03 Nov •

4

min Read
Take a look outside. Has it been a while since you've talked the outside areas of your home? After ample sunshine and a decent amount of rainfall, the exterior of your home may resemble more of a jungle than a garden! When was the last time you cleared out the backyard or front yard?
Don't worry, you aren't alone. In Australia, we love our backyards and cherish our street appeal. Some of the quintessential Australian ways to spend the warmer months include chilling by the pool, having a friendly BBQ or playing backyard cricket. But sometimes, when we aren't spending as much time in our backyard during the colder months, the greenery can get out of hand.
Especially during spring, you may find your backyard needs maintenance to get it back into shape for it to be enjoyed once more. If you are looking to get on top of your garden and have it looking presentable, our green waste skip bin can help!
Follow our tips below to have your gardens looking maintained and ready to use this season.
Start with the grass
To get on top of your garden, start from the bottom and make the lawn the first thing you do. By conquering your grass first, you'll make the entirety of the property more accessible by creating a clear path to work with.
Whether it is longer than usual height or a full metre of dead grass, mowing down and maintaining your lawn by pulling out weeds is recommended. It will already make a world of difference for your garden even though it is the only thing done.
Plus, mowing your grass will reduce the risk of a fire hazard as it will limit the potential of spot fires in the area. In the warmer months, this is integral to a property's safety.
This will also make it safer for the kids. You don't know what could be hiding in overgrown grass. A well-maintained lawn will deter bindies from leaving a nasty surprise, saving any unnecessary tears.
As for taking care of your grass cuttings, we recommend dumping them into a green waste skip bin. This is especially handy for those who haven't mowed their lawns in a long time and have a lot of grass to take care of. It is also ideal for those who live on acreage with large amounts of land to mow at one time.

Tackle overgrown bushes
Once you're done with the grass, it is time to move over to the bushes and garden beds. Around these areas, you may find uninvited plants that have decided to grow over time. Tackling this will help clear the space and make it more presentable.
Start with narrowing in on the pesky weeds that have found home on your soil. Then move to any plants that may have grown under the fence from neighbouring properties.
Once you have removed the intruders, it is time for the main event – sorting out your beloved bushes. Usually, after plenty of rain, your bushes may have become wild and overgrown.
If this is the case, it is time to grab a hedger or shear and go to town, trimming your plant back to its ideal shape and size. Pruning a tree will help get your yard back into shape and help improve your street appeal.
This can also be an excellent time to focus on hedges that may be close to your home, like in front of a window. There are multiple benefits to taming bushes. Not only are you maintaining them, but you are also stopping them from housing potential pests, using grown hedges as a bridge to enter the roof of your home. It will also prevent them from being adopted as nests!
You may find you have plenty of flower trimming, leaves and thin branches cluttering the ground once you are done. These can go straight into your green waste skip as well! Our 2m skip bin would suffice for small backyards, whereas one of our larger bins would be ideal for lengthy properties.

Trim down branches and leaves
Have you found it isn't just the bushes that have doubled in size? If you are dealing with trees that have grown and filled out over the last few months, you can also give them a red-hot shot. Trees can be a pest to Australian backyards. While they provide us with well-needed shade during the hotter months, they can also be a pain for several reasons if not taken care of.
Not only do they fuel fire, but in the chance of a storm, larger trees can become a hazard in the event they fall down. Other than the important safety issues, they can just make taking care of your home a task.
Just like the bushes, take a hedge cutter, shear or saw to sculpt the tree down to your ideal height and size. You may need to hire external assistance for hefty heights.
To limit any trees from overhanging and dropping branches and leaves onto your roof or pool area, we recommend cutting off loose branches. Narrowing down the size of the tree will also suffice. This will deter fallen debris and help keep your yard looking maintained in the future.
If you are looking to establish more space and want to remove a tree entirely, our green waste bin will also cater to this in addition to your leaves and branches. This skip accepts tree trunks and stumps under 150mm in diameter, making it easier for you to clear your yard!
---
Ready to get on top of your garden? A neat, maintained front yard and backyard is waiting for you just around the corner! All you need to do is book a skip bin and get moving.
At Matt's Skip Bins, we service Western Sydney customers with our reliable and professional waste solutions. We offer our green waste skip bins to Blue Mountains, Penrith, Hawkesbury and more. To see the complete list of areas we deliver our bins to, visit our website.