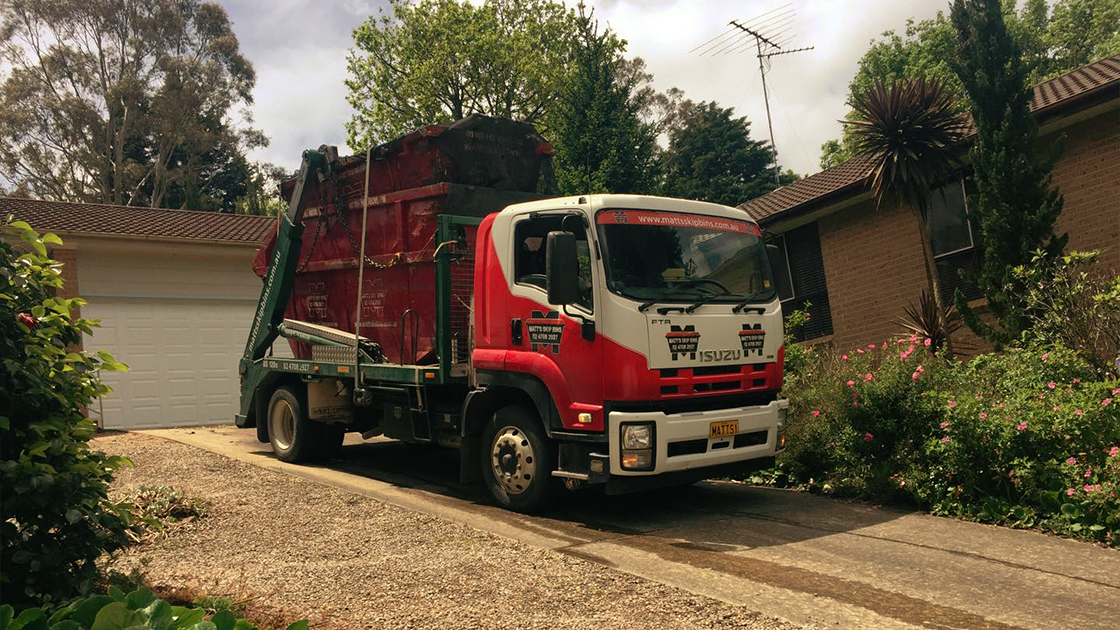 22 Jul •

4

min Read
Do you have a clean-up planned? Or maybe you have a move or some other activity that requires a skip bin? If this is you, quickly give this a read before you go any further!
While ordering a skip bin is a convenient and reliable way to eliminate waste, there are a few hazards to consider before you decide on a bin and where you should place it.
Keep reading below to see the hazards you need to consider before you book your bin.
Parked cars and vehicles
While renovating, moving or managing a worksite, you may have a fair bit of vehicles parked around the property. Whether they are there long-term or temporarily each day, you need to consider where you can put your skip bin and how the cars will affect it.
It is best to pick a spot away from parked cars or an area with at least enough space between the vehicle and the bin. This way, vehicles can still come and go as needed and our trucks have enough room to drop and pick up the bin. Please note, we require between 2.8 and 3 metres of space in width.
As it is often overlooked when selecting a bin size and the designated placement, you must find a spot that won't cut off access for any vehicles or pedestrians. It should also provide space for our trucks and give you room to put content into the container without obstruction.
Boggy ground and grass
It is the little things that count! When ordering a bin, you should even consider the ground. Yes, the ground! 
You may not know it yet, but the field can sometimes be a hindrance when it comes to your skip bin for a few reasons.
One of the most painful lessons for a homeowner is that they make an oversight by picking a grass spot for their skip bin, resulting in dead or damaged turf. Depending on your grass condition, the skip bin size and the length of time your hire is, your skip bin can leave a mark on your grass. To avoid this, we suggest:
Placing your skip on hard ground surfaces

Selecting a smaller bin like our

2m skip bin

Placing wood panels underneath to hold up the bin weight

On the other hand, not only can a skip bin potentially impact your lawn, but it can also make the delivery and pick-up process a challenge for our trucks! If recent rainfall has hit and your grass becomes boggy, our trucks can leave tyre marks when driving over grass.
In extreme conditions, the truck can even become bogged themselves on rare occasions! This emphasises the preference for hard ground surfaces even more so!
Overhanging objects
After you've assessed the ground, look up! Overhanging objects can also impact your skip bin location.
If you plan to place your bin in a small, confined space under shelter, this may be an issue. For our trucks to drop off and pick up your bin, we need a clear five-metre height space. This way, the arms on our skip loader can be fully extended, transporting the bin between our trucks and the ground.
Other concerns can include overhanging trees, eaves of a building structure and low power lines. If such objects are too low and will interfere with the arms on the truck, you will need to move your designated skip zone. While our team is pretty flexible with obstacles, some situations are too dangerous, so please check with our team in advance if you are unsure.
Council permits
Have you found the perfect spot for your skip bin? First, determine whether this spot is on your private property or if it falls upon council land. A potential issue often overlooked is whether the bin is on your property or the councils. 
Council land includes spots such as roads, nature strips and public pathways. Because it is public property, you may need to check if you require permission from the local council before making this the final spot for your skip.
Providing skip bin hire to Western Sydney residents, we often see situations like this. Sometimes, the only space available or big enough for your required skip is on council land. All you need to do is contact or visit your local council's website and apply for a permit to do this. For further directions, contact your relevant council for more information.

---
Before you book your bin, give your property a once over and consider the above concerns. Once you are certain of your bin size and position, go ahead and book your skip through our website!
For further information that will help make your skip hire decision, read up on the access requirements we need in our article here – Access Requirements Our Bins and Trucks Need.
Have an enquiry you're unsure about? Contact us on 02 4708 2927.