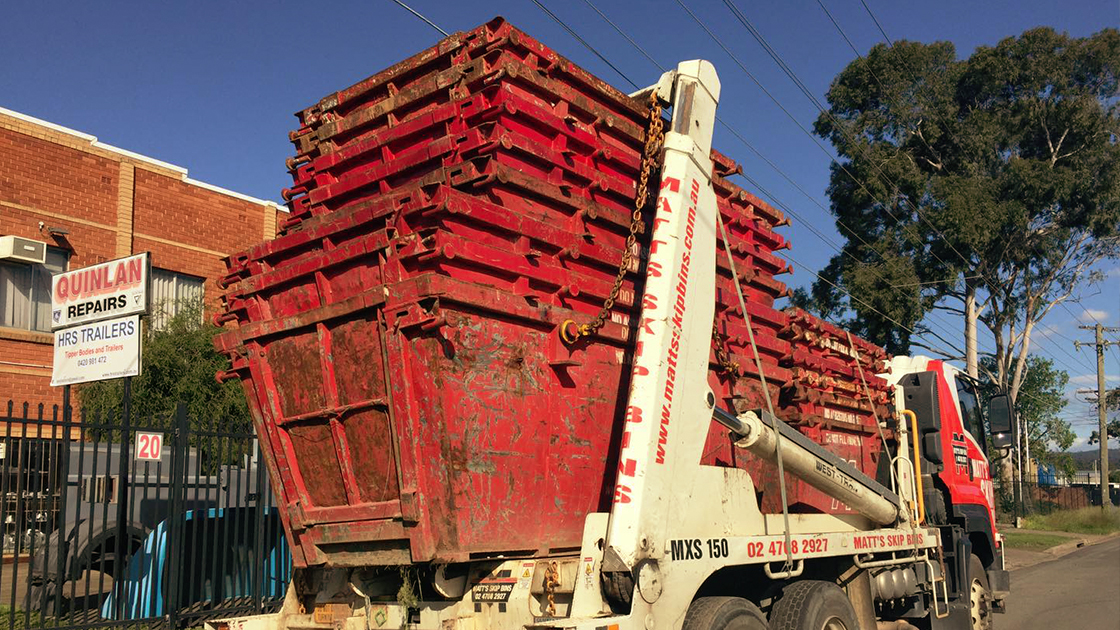 18 Jan •

3

min Read
Choosing a skip bin hire company can be hard. It can be difficult to decipher which are upfront and transparent and which ones are sneaky and deceitful.
At Matt's Skip Bins, we pride ourselves on being open and genuine with our customers. Just like you, we hate hidden costs and being misled! 
Sticking to our sincere approach, we allow customers to get an obligation-free quote when ordering online. This way, you know what and how much you are paying, without any hidden costs coming up to surprise you later.
Unfortunately, not all skip bin hire companies in Sydney share the same values. 
It is important when ordering a skip bin that you stay vigilant, as many other businesses aren't as open, ripping you off in the long run!
Hiring a skip doesn't have to be a bad experience. To ensure you don't get ripped off on your next hire, here is what you need to be aware of.
Ask the right questions about your skip bin
When looking to order a skip bin, it is always ideal to ask questions and make sure you know the details of your skip bin order before paying. The last thing you want to do is be misled! 
Knowing the right questions to ask is always a good start. Helpful enquiries to ask include:
Does the price shown include delivery and collection costs?

Are there any items that have an extra cost that isn't stated on your website?

What are the correct dimensions of my selected bin?
Asking questions on potential hidden costs and the dimensions of a bin can change your end decision on an order altogether. 
For example, an advertised 3 cubic metre skip bin may actually hold as much as another business's 2m skip bin.
By asking these, you'll be able to see what you are getting for your money and whether it is really a good value or merely a rip-off.

Be on the lookout for any hidden/extra costs
While the price may initially seem unreal and cheap as chips, it may not be the total price by the end of the service. 
Many companies use unethical tactics like introducing a low price at first impression, then throwing on additional costs once booked, inflating the total price at the end of the service. This is the reason why it's important to ask questions about hidden costs when you first contact the company. 
Hidden fees that may appear AFTER you've order and paid for the bin may include delivery costs, pick-up costs and items that are not first explained.
A transparent company would include the total costs at the initial price, making the experience much more upfront and genuine. 
Looking for an inclusive price with all the bells and whistles? Get an obligation-free quote on our website. We tell you upfront how much your order will cost without any commitments! 
Don't fall for the company that has suspiciously low prices
One of the biggest reasons people get ripped off when ordering a skip is because they fall for a company with the lowest price. 
As mentioned above, while the low price may seem appealing, it can be misleading. The price displayed maybe for a size you weren't expecting or may incur additional costs. 
If you're interested in an appealing offer you saw, use this the time to ask the right questions about the size and total price. 
A vital tip to remember when shopping around is that the grass isn't always greener on the other side! Just because one company has lower prices doesn't mean their service is top quality. If the company seems a lot cheaper than others, they usually are for a reason!
For quality service, paying that little bit extra with an upfront company can make a big difference. 
You are paying for your full service and a more relaxed experience. While the price might seem more at first glance, it can work out the same as the 'cheaper' company in the end, if not less! In this case, you definitely get what you pay for.
---
Ready to order a skip bin? Remember the tips we shared so you can avoid getting ripped off! To ensure you are going with a skip bin company who will give you value and a top experience, order your bin through Matt's Skip Bins!
When it comes to our work, our team strives to provide our customers with peace of mind and a reliable waste solution. 
Do you want to order from upfront professionals? Order your skip bin through our website or give our friendly staff a call on 02 4708 2927.