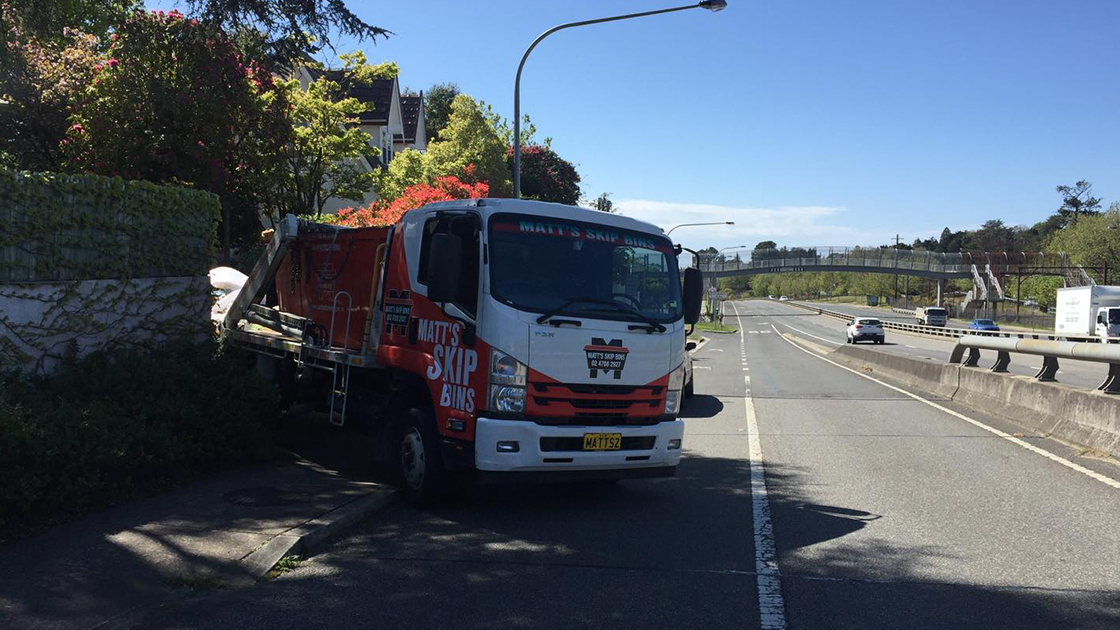 15 Jul •

3

min Read
Matt's Skip Bins has had years of driving and delivering skip bins around many areas that make up the region of Western Sydney. This means our team has definitely seen plenty of driveways in our time.
Varying in conditions, we know that not every driveway is straightforward or flat and can be a little more challenging than the next.
That is why we ask that if you're looking to place your skip bin hire on your driveway or past it, you should first ask yourself a few questions to ensure it is possible. You'd be surprised what our team can provide, even in challenging driveways!
If you're unsure whether your driveway can accommodate our skip bin services, have a read below.
What is your driveway like?
Take a step back and look at the driveway of the property you need the skip delivered to. What is the driveway like? There are a few conditions you should look out for, including:
How steep it is
The type of material your driveway is
If low-hanging obstructions surround it
Is your driveway wide enough to fit our trucks?
These are important to consider as our trucks can have some limitations. Our trucks require between 2.8 and 3 metres in width and 5m in height. This is why you should double-check the access point to your driveway and any obstructions that may hang over it.
As for the driveway itself, don't be concerned if you have a large drop or rise. Unless it is excessive, with skill and patience, our trucks can usually conquer steep driveways by gradually making our way up and levelling out the skip bin loader with bricks or other innovative methods.
Regarding the driveway material, when it comes to non-paved driveways, we usually only come across issues with wet dirt ground and uncompacted gravel. These can cause our vehicles to become bogged, but it doesn't necessarily mean it always happens.
Call us to discuss your situation before booking if any of these are relevant to your driveway.

What skip bin size have you hired?
Another thing to consider is the bin size. At Matt's Skip Bins, we offer a range of skip bin sizes, but this doesn't necessarily mean all sizes will fit your location.
For example, if you have a narrow driveway that is the width of a single car with very little room around it, you may not be able to fit a large 10 or 9 cubic metre skip bin across it without it going over. In these cases, you may need to be creative and put a wood plank on the overlapping area to keep it from ruining the grass. If you are adamant about the bin not exceeding the driveway, another bin size may be needed.
Another situation could be where the ground's surface isn't flat enough to hold one of our larger bins. We require a flat, stable surface for our bins to sit on for multiple safety reasons. This may force you to go for a smaller size.
If we can't leave a skip on your driveway
Is your driveway not suitable for our trucks or the bin you desire? There are a few solutions to your problem!
If your driveway doesn't provide adequate access for our trucks, we can opt for an alternate location for your bin placement. In the past, we have entered the rear of the property to access the backyard.
Other ideas include lifting the skip over the front fence and placing the bin in front of the property on the council strip.
Is the skip size the issue? If you find the bin is too big for your selected spot, go for a small bin size. The smallest in our collection, the 2m skip bin, is a handy yet convenient size that can generally fit in most spots.
---
Ready to book your skip? Head to our online booking form! Or, if you have a concern and are still unsure if your driveway is something our skip bins or trucks can conquer, call us on 02 4708 2927.