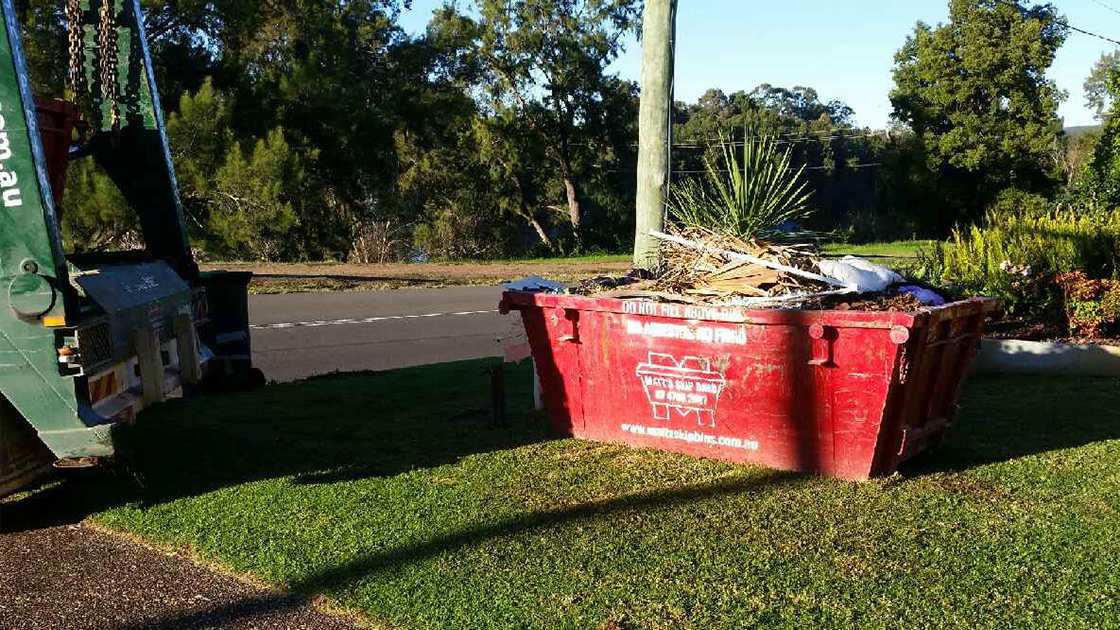 16 Aug •

3

min Read
To put it on the driveway or to put it on your lawn? One of the most significant decisions in your skip bin hire (other than figuring out the size and waste type needed) is where you should put your skip.
For most skip bins across Sydney, the two popular spots for your bin to stay during hire is the driveway or grass. But which spot is best for your hire situation? In many instances, it will change depending on your property, bin needs and available space. But if you have both available, which is best for you?
With both being a double-edged sword, we made the decision easy for you. Find your answer below!
Skip bin on grass
Pros:
Do you have a large grass area available? This may be the best place to put your skip bin as it allows your driveway and cemented areas to be accessible for parking and other building requirements. This is important if you need the bin for an extended time and have tradies and builders on-site as it will mostly stay out of the way.
Furthermore, by having your bin on the grass, there will be less chance of you cracking or damaging your driveway. This will preserve your driveway which, is harder to replace or fix.
Cons:
While using your grass can allow you more room on your driveway and pavement, your grass may experience some possible implications. For example, your skip bin may sink in rainy conditions or leave large ruts (especially with our large skip bin sizes). The grass underneath the bin may also die and go brown, but this can grow back through watering.
If the turf is damp, trucks can leave marks on the grass during pick-up or delivery. On top of this, any unknown pipes underneath the ground could be impacted by the truck's weight, resulting in possible damage.

Skip bin on your driveway
Pros:
If you are worried about the health of your grass, you may prefer to put your skip bin on a paved area such as your driveway. This will narrow down on possible issues. If fairly wide, choosing to put your skip bin on your driveway will make it easier for our drivers to place and pick up your bin.
Placing your bin on the driveway will also allow it to be in closer proximity to your dwelling. In renovation scenarios, this can be convenient, rather than the skip being meters away, saving long wheelbarrow trips.
Cons:
Due to the weight of our trucks, placing your skip bin on your driveway can have consequences. Your driveway may be sensitive to the weight of our trucks and can crack.
Another common issue with placing a bin on your driveway can also be the lack of space. It can block sufficient access areas, deterring you and trades from parking on the property. It can also impede tradies access to the property which can be inconvenient.
It is important to note that not all these cons may happen, but it is good to be aware of the possibilities. We recommend analysing the property where your skip bin will be in use and considering what is essential.

If you would like to keep your lawn in top condition and don't mind giving up the driveway, the driveway may be your best bet. On the other hand, if you would rather keep space free on your driveway and don't mind the possible threat of temporary damage to your turf, then the grass may be your recommended choice.
---
Are you looking to learn more about our skip bin services? Check out our website or for further information, give us our staff a call on 02 4708 2927.