13 Dec •

3

min Read

5 Zany and Creative Ways With Skip Bins
There's no doubt about it – skip bins are great not just for temporary and tidy waste storage. They come in a range of shapes and sizes and are conveniently available for hire.
Are you clearing out your house in preparation for a move? Does your DIY project come with some heavy duty mess? Do you want to hang ten on your skateboard in your custom-made skate ramp? Wait… can you really use a skip bin for that…?! 
If you had a skip bin lying around that was yours to keep what would you use it for? Believe it or not, there are plenty of creative ways to utilise a skip bin and a custom-made skate ramp isn't even the most bizarre.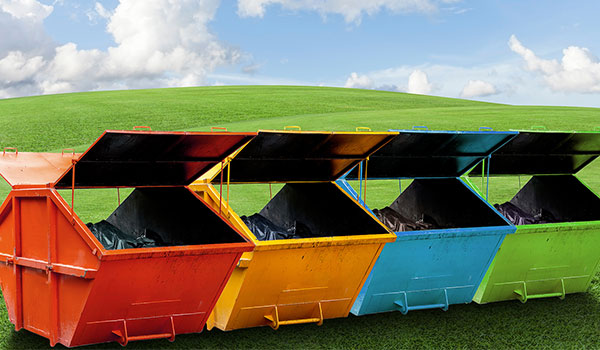 Note: In this blog, we have linked to images found in the Google search engine.
Cool and unusual ways for spare skip bins
The Zen Garden
This is actually one of the most beautiful options on this list. Simply treat your skip bin as an oversized flower pot and create your very own garden. Once you fill it up with all that soil the options are almost limitless. Grow your favourite succulents or cacti or any type of crawler to create a beautiful greenspace. You could even plant a fruit-bearing tree and snack off the delicious fruits of your labour.
A man enjoying a cuppa in a public seat
The Trailer Skip
What is one of the best things about a skip bin? The answer is its storage space. Why not find a brand new way to use that storage by putting your skip bin on wheels. Once it's portable, you've basically got a road-ready trailer. You just need to find a way to hook it up to your car or truck. Close the lid and go anywhere. 
The Living Skip
It might sound crazy, but turning your skip bin into your living room might not be as farfetched as you think. People live in containers, caravans, cabins, so why not a skip bin? Tip the skip on its side and you've got your doors sorted out for privacy. If you've got a flair for interior decoration you can transport all your creature comforts into your new living space. Grab a few throw pillows, maybe a couch, a TV and you'll be ready to chillax.
The Pool
When you think about it, turning your skip bin into a swimming pool seems like a pretty natural idea.
Step 1: Get your empty (and clean) skip bin.
Step 2: Grab your garden hose and fill it right up.
Step 3: Invite your mates over for a pool party in the sun. 
Can you imagine that DIY pool on a hot day? Check this out:
The Man Cave / Study / Kids Room / Studio / Office
With your own personal skip bin and some creative or building skills, you could create a state of the art space for yourself, spouse or kids. Do you need a man cave, bespoke office or kids playhouse? Just find the right spot, tip your spare skip bin to its side, and go for it.
Thinking about that creative project? If you need to ask us for advice on skip bins, just flick us an email. Or if you are looking at hiring a bin, feel free to use Matt's Skip Bins' online system and book a bin by selecting the size and suburb for delivery.